Kenitha's Baby Shower Diaper Cake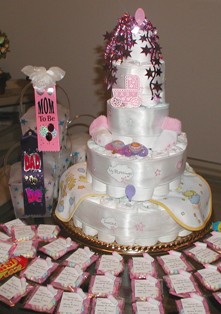 "I happened upon your site while looking for baby shower ideas for a friend. I loved the diaper cake idea and was so proud with the result that I took a photo and attached it to this email.
Thank you so very much for the great idea and instructions!
My Diaper Cake Recipe:
-1 Lg. Bottle of Baby Wash (for the 1st & 2nd tier)
-1 Lg. Bottle of Baby Lotion (also for 1st & 2nd tier...I put both bottles together on the bottom and surrounded them with the diapers).
-1 Reg. sized Baby Bottle (for the middle of the 3rd & 4th tier)
-71 Diapers (40 small Diapers for Newborns & 31 larger Diapers for 12 lbs. and up). In this way you can "mold" the cake depending on how thick of a roll you need, etc...On the 1st (bottom) tier I used both sizes of diaper and made 3 rows around the bottles of baby wash and baby lotion. For the 2nd tier I used both sizes again forming 2 rows around the rest of the bottles of wash and lotion. On the 3rd tier I made 1 row around the baby bottle using only the larger diapers. On the 4th tier I made 1 row around the remainder of the bottle, but only used the small diapers. A small diaper made up my 5th tier (I just kind of wedged it into the middle of the 4th tier).
-71 Rubber bands (to tie ea. diaper at the middle)
How I tied Ea. Diaper: I opened ea. one up and started rolling at the end that would make up the front of the diaper if it were actually on a baby. I'd roll it up like a cinnamon roll and then secure in the middle with a rubber band.
-1 Flowing Gift-wrapping Bow as the Topper
-1 Plastic Party Platter to put the cake on
-9 ft. of Wide Ribbon, 2.5''wide (I measured how much I used, but did it with a ruler...don't know what that is in yards-sorry!)
-Scrapbooking stickers to fit the theme of the shower
-2 Flat, Plastic Baby Carriage Accents(I found mine at the local craft store for $0.89)
-1 Baby Brush and Comb Set
-4 Baby Feeding Spoons
-3 Pairs of Baby Booties
-2 Pacifiers
-3 Bibs
I thought I'd share my own recipe."
Submitted by Kenitha from San Antonio, TX
Thanks Kenitha! It is DARLING!!!