Little Girl Nappy Cake
This pretty little girl nappy cake comes from Worthing Sussex, England. And am I ever glad to show it here! It is made with the love of a grandmother, and loaded with so many baby items. And it was taken to the hospital and presented to the new mother. How fun!
Linda is one of our readers from England and wanted to share her cute cake with all of us! She continues to make this website the most useful nappy and diaper cake resource on the planet. Darling readers from a variety of countries have shared their creativity, tips and photos. It is wonderful! Thanks so much Linda, for sharing your cute cake!
If you have a diaper cake and/or ideas that you would like to share, submit it here!
Linda's Little Girls Nappy Cake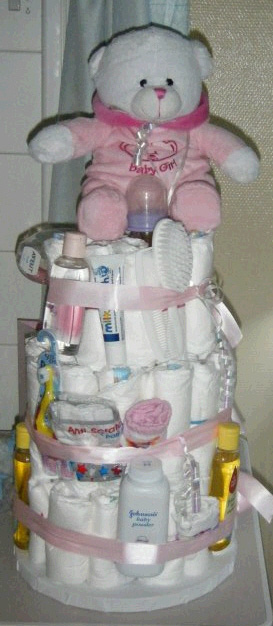 Linda's Comments:
I made this cake using the instructions given on this great site, then added pink ribbon, teddy, and lots of useful things for baby.
The cake was made for my beautiful granddaughter Olivia.My son and daughter in law were really pleased, the nurses at the hospital thought it was great and very unusual.
Linda Wadsworth
Worthing Sussex, England United kingdom
Thanks Linda!! Congratulations on your new granddaughter - what a pretty Cake you made for her!
We have an entire Diaper and Nappy Cake Photo Gallery right here
Anyone can make a nappy or diaper cake! Just follow some simple instructions and pictures to make your own nappy/diaper cake.!