No two baby shower centerpieces are alike! Each one is tailored for the special expectant mother and her new baby.
When you walk into a room, what is it that instantly catches your eye? What is the first thing that attracts your gaze? It might be a floral arrangement, it might be a chandelier, or a statue. Whatever it is, it catches your eye because it has texture, depth, and color. At a baby shower, the "eye-catcher" is going to be your baby shower centerpiece. It will be the focal point of your party. Gifts are ususally placed behind or nearby the centerpiece.
For some helpful hints on choosing the perfect baby shower centerpiece, scroll to the bottom of this page...
What are the Cutest and Best Centerpieces?

______________________________________________

Edible Fruit Bouquet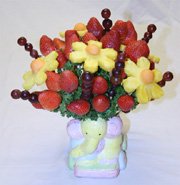 A fruit bouquet is a wonderful baby shower table centerpiece because it is also a tasty addition to your baby shower food refreshments. Instead of making a fruit salad, you could make a fruit flower bouquet! It is a fresh, striking and unique baby shower centerpiece idea.

Here are detailed how-to make a fruit bouquet instructions with pictures...

______________________________________________
Make Your Own Baby Sock Rose Centerpiece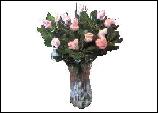 This is a beautiful & fun centerpiece for your shower! Here are step-by-step, easy to follow instructions to help you make your own baby sock rose bouquet . Plus it is quite inexpensive and you can give the centerpiece to the expectant mother for her to keep (and she can use the baby socks for her baby). This is a sure way to impress your guests and it looks so real!
______________________________________________
Flower Bouquets and Floral Arrangements
This is my personal favorite baby shower centerpiece. What woman doesn't love flowers! Flowers are fresh, vibrant and the perfect way to celebrate a new life. They add color, texture and fragrance that give a room a warm and inviting feel.

Any of these flower types would be beautiful:
   · Alstroemeria
   · Calla Lily
   · Carnation
   · Gerbera Daisy
   · Daisy
   · Iris
   · Lily
   · Orchid
   · Roses
   · Snap Dragon
   · Sunflower
   · Tulip

______________________________________________
Diaper Cakes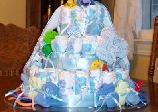 These Diaper Cakes (also called baby shower cakes) are becoming QUITE the popular idea for baby shower centerpieces. They can be decorated to fit any theme you may have. They are bright and attractive, Plus they are a great gift for an expectant mother. Click here for instructions on how to make a diaper cake ...
______________________________________________
Chocolate Fountains
This is the most delicious centerpiece that a baby shower could have! Guests rave about this one for weeks after. There is just something exciting and fun about covering fruit and other refreshments in rich, warm chocolate. Chocolate fountains are a fun and interactive baby shower centerpiece that also makes the baby shower food easier to plan. If your budget allows to rent or buy one, you (and your guests) would find a chocolate fountain to be a TASTEFUL and classy centerpiece.
______________________________________________
Display a Scrapbook
Display a scrapbook of the expectant mother (or even a collage of photos of her) - it could be when she was a child or at any time in her life (or if she already has 1 or more children display a scrapbook of her kids). This is a great way for everyone to focus on the mother and her memories thus far in her life.
__________________________________
Baby Balloon Bouquet
This is a classic and traditional baby shower centerpiece that is affordable and fun. Pink balloons for little girls, light blue for baby boys, and yellow for the "To Be Determined" baby. Balloon bouquets cost around 10 dollars for a medium size bouquet. There are fun Mylar balloons in different shapes and with fun sayings to fit your theme. Helium balloons are great to scatter across the ceiling or tie to the Chair of Honor where the expectant mother will sit.
__________________________________
Baby Clothesline
One of the cutest homemade baby shower centerpiece ideas is to string a clothes line across the room and use clothes pins to hang little baby clothes, onesies, baby socks, bibs, towels, and more on the line.
Also, with the clothes line, you could take 10 diapers (either disposables or cloth) and use non-toxic paint or permanent marker of any color (blue, pink, or yellow) to write one big letter on each diaper to spell B-A-B-Y S-H-O-W-E-R. Then Pin up the diapers on the clothes line.
______________________________________________
Baby Wreath
A very classy and cute homemade baby shower centerpiece idea is to make a "Baby Wreath". Everyone is decorating with wreaths these days, so making a baby wreath is a perfect baby shower decoration. How do you make one? Go to a craft store and buy a plain, undecorated wreath. There are wreaths made of ivy, pine, berries, twigs, straw, and more. Buy one that will match your theme the best (e.g. Winnie the Pooh - red berries, Nursery Rhyme - straw). If you are not having a specific theme and are just decorating with "baby" decorations, then any material will work. Next, make a little sign that says
the Baby's name
Congratulations!
Baby Shower
Oh Baby!
or some other cute saying
Or you could buy little letters of wood or aluminum and spell the baby's name or Winnie the Pooh, or one of the sayings above. Fasten the letters or the little sign with tape or hot glue or tie it on with string. Then, tie on or fasten or glue little baby items on the wreath. These items could be: pacifiers, safety pins, little rattles, small bottles, teething rings, baby socks, baby shoes, etc. You can customize your wreath to fit your specific baby shower theme. For example: for a Winnie the Pooh theme you could fasten a little beehive, little bees, little figurines of Tigger, piglet, and of course Winnie the Pooh. You could fasten a little kite, or a pot of honey, and more. This is your chance to be creative! Have fun with it. Give the wreath to the expectant mother for your gift and she can use it for decorating the baby's nursery.
______________________________________________
Stuffed Animal
Buy a medium to large stuffed animal (for the baby's nursery). It could be Big Bird, Elmo, Winnie the Pooh, Cookie Monster, a Teddy Bear, or any other animal that the mother and baby would like. Then put a cloth diaper (or disposable if it fits) and give it a binkie & bottle, a onesie, and other baby accesories. Place it in a little cradle or baby blanket and put your centerpiece in the party room. This is SO cute!
______________________________________________

How to Choose the Perfect Baby Shower Centerpiece:
1. What is the theme of the baby shower?
This is the #1 biggest influence on your baby shower centerpieces. You will want to convey the baby shower theme in your baby shower centerpiece. Here are some absolutely darling themed baby shower centerpiece ideas for some specific baby shower themes.
2. Consider the personality of the expectant mother.
What would make the baby shower more memorable for the expectant mother? Does she love flowers? Is she addicted to chocolate? Would a baby shower centerpiece not be a big deal to her?
3. Consider your budget.
How much do you want to spend on the centerpiece for the baby shower? If you are on a tight budget, you will want to keep your baby shower centerpiece simple and sweet! Like a flower bouquet or a balloon bouquet.
4. Is there a dual purpose to your baby shower centerpiece?
Do you want to give the centerpiece as your gift also? Diaper cakes are a great "dual" baby shower centerpiece & gift. Also, a clothesline or a baby shower wreath are cute displays with useful baby items for the new mom!
Best Wishes on your Baby Shower!
Click here for the latest trend in baby shower centerpieces ...