Baby Shower Cakes
Add The Perfect Touch
EDIBLE Baby Shower Cakes Ideas and Recipes
Here are some cute and tasty looking edible baby shower diaper cakes submitted by our wonderful readers. Our readers' creativity help make this the best baby shower resource on the web!
Share your own Edible Baby Shower Cake BELOW!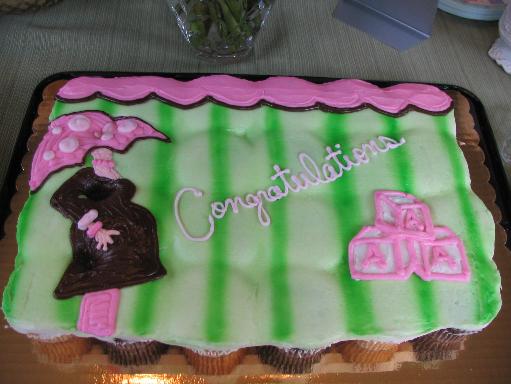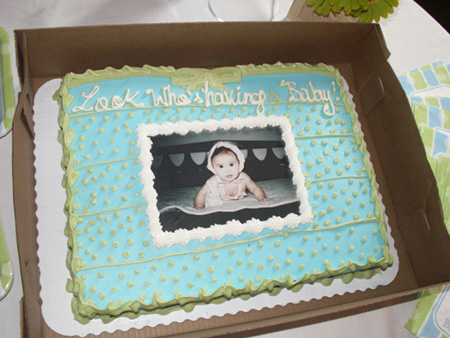 One cake recipe that is always a huge hit at baby showers is Jell-O cake.
They are a delicious cake and the main reason they are a popular baby shower cake is that you can color coordinate your cake to have either pink or blue swirls in the cake, to celebrate a girl or a boy. Or you could do swirls of both pink and blue for a mother who doesn't know what she is having!
I hope you enjoy this family recipe!
__________________________________________
Jell-O Cake
1 package white cake mix
1 3 oz. package of Jell-O
Cake
Bake the cake according to package, using a 9 x 13" greased cake pan. While cake is baking dissolve a 3-oz. package of Jell-O. (Use strawberry for a baby girl and blue Jell-O for a baby boy) in ¾ cups boiling water. Stir until Jell-O is dissolved, then add ½ cup cold water. Stir occasionally until it starts to get syrupy. While cake is still quite warm, punch holes in it with the handle end of a wooden spoon or a large tined fork. Pour Jell-O over warm cake. Let it sink in holes and around edges. Space holes about 2" apart. Place in fridge to get cold.
Topping
1 package of instant vanilla pudding
1 ½ cup milk
8 – 12 oz carton of whipped topping
Mix package of vanilla pudding with milk and stir until thickened. Then stir in the whipped topping until well mixed. Cover cake with topping and keep chilled.
__________________________________________
Click here for more delicious baby shower dessert recipes ...
_________________________________________
A FUN NON-EDIBLE CAKE IDEA:
One of the most popular baby shower idea these days is baby shower cakes. They are all the rage, and after you see one, you'll understand why. They are also known as
diaper cakes
and baby cakes.
So, what exactly is a baby shower cake? (or Diaper Cake for that matter!)


The first thing I should mention is that you don't eat a diaper cake!
If you are looking for edible baby cakes, scroll up towards the top of this page for a fabulous family cake recipe.
A diaper baby cake is a collection of diapers (either disposable or cloth) rolled and stacked together to resemble a traditional tiered cake. There can be 1, 2, 3 or more tiers. The tiers of diaper cakes are also garnished with baby care items such as bibs, pacifiers, baby socks, bottles, toys, and more.
Baby shower diaper cakes are becoming very popular for several different reasons:

1. They are a fun and unique baby shower gift. Not very many mothers receive a diaper cake as a gift, and they are so cute!
2. Baby diaper cakes are an extremely useful baby shower gift. Every mother needs diapers, bibs, bottles, and other necessary baby items. If you were planning to give a gift of diapers, bibs, bottles, and other baby "must-haves", this can be a very cute way to present it.

3. Diaper baby shower cakes are also a wonderful baby shower centerpiece. Many hostesses use these diaper cakes as the centerpiece for the party. Then, when it comes time to open gifts, it is presented to the celebrated mother-to-be, who gets to open it and see all the baby supplies inside.

4. A baby diaper cake can be decorated to coordinate with any baby shower theme that you might have. You name it: Stars, Winnie the Pooh , little princess, Noah's Ark , Angels, Sesame Street and everything else!
Baby Shower cakes are not an "essential" baby shower item at all. But they do add a fun and classy touch to a baby shower.

Click here for instructions on
how to make your own baby shower cakes

__________________________________________
Want to share your Edible Baby Shower Cake?
Share your edible baby shower cake picture and/or recipe! We would love to see it!
What Other Visitors Have Said
Click below to see comments from other visitors to this page...

Best wishes on your Baby Shower Party!