Given by Natalie Hansen
RSVP regrets only 555-545-1255


Sarah Jones and her little one
are registered at Babies-R-Us

Or something like that. Next, print your wording onto your vellum. You may have to adjust and play around with the printer settings to get it to print two invitations on one page. So before you start printing on your sheets of vellum, use blank white paper first until you get it just how you want it. Then, print off as many as you are going to need. Then, cut the vellum down to about 3" by 5" size with the wording centered in the middle.

Next, cut your SESAME STREET themed paper to 4" by 6" size . Then place the vellum on top of the SESAME STREET-themed paper and fasten it at the top with two brads, equally spaced in the center. Or punch two holes, equally spaced (about ½ inch apart) in the vellum and the paper; then loop some ribbon through both the paper and the vellum. Finish it by tying the ribbon in a cute bow on top. Then buy some Sesame Street stickers at a scrapbook store and put one or two on each baby shower party invitation.

You are ready to send them off!

If you don't want to use vellum, you could follow the instructions above, but instead of printing the wording onto vellum, just print the wording on a light-colored star patterned paper. Cut to size and you are done!

OR, easier still, you could use one of the following SESAME STREET free printable baby shower party invitations: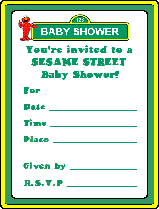 Free Printable Sesame Street Invitation




____________________________________




SESAME STREET Baby Shower Party Favors

Here are some inexpensive, easy, and adorable baby shower party favors!

A bag of fancy cookies (either homemade or possibly Pepperidge Farms) with a note saying, "Here's a GREAT BIG COOKIE MONSTER HUG for coming to the baby shower!"

Sesame Street Scrapbooking Materials
     Sesame Street themed paper
     Sesame Street die Cuts
     Sesame Street stamps
     Sesame Street stickers


A Miniature Garbage Can with an Oscar-the-Grouch sticker on the front and filled with candy or Hershey's kisses


A Package of colorful votive candles with a sticker of Count Von Count and a note saying, "1, 2, 3, 4, 5. 5 Candles! Ha, ha, ha! Thanks for coming!"


Candy Bar Wrappers - (put a Sesame Street Sticker on each one) saying something like, "Thanks for coming to Sesame Street to celebrate our little one!"


____________________________________




SESAME STREET Baby Shower Party Decorations

Your baby shower party colors are going to be bold and bright primary colors: red, yellow, green and blue. A great and inexpensive decoration are streamers. Buy several rolls of streamers in red, green, and yellow to decorate the ceiling, banisters, walls, and tables.

Start out with some fun, colorful Sesame street balloons for your baby shower party. There are Elmo balloons, Big Bird balloons, and more. These will give an instant recognition of your Baby Shower theme. Also, regular balloons would be great for decorating an entire room - use bright yellow, red, and green balloons to scatter across the ceiling of the baby shower party room or group a bunch together in a balloon bouquet.

Borrow or buy a big, tin garbage can (fairly inexpensive at local stores). Place it at the front door, prop the lid open about 1/3 the way up, and fasten a picture of Oscar the Grouch to the inside opening of the garbage can. For the picture of Oscar, draw your own from this smaller example... Use crayons or markers. You can use the trash can for trash at the end of the party! What an original idea :]

Pick one wall and make a display or grouping with Count Von Count's face (either draw or print his face) and print off these big letters... "1...2...3...Ha Ha Ha!"

Then make a grouping of everybody's favorite character: Cookie Monster! who always gives the Letter of the Day. Make a sign that says: "C is for Cookie!" and/or "B is for Baby!"

Then put up a picture of Ernie with a rubber ducky.

And finally, the most important part: How could you do a Sesame Street Baby Shower Party without Big Bird? Print a picture of him and print or draw a picture of the actual Sesame Street sign and put them on the wall together.

Other characters you could decorate with:
Elmo
Bert
Zoe
Snuffalufagus


Buy some colored posterboard and cut shapes out of them (circles, squares, triangles, rectangles, etc) from the ceiling.

You could buy some primary-colored confetti and sprinkle it around the gift table, the food table, and other places for an added touch.

____________________________________




SESAME STREET Baby Shower Party Food

These are some fun and tasty ideas for your Sesame Street Baby Shower Party:

Appetizers
- Big Bird's Vegetable Dip
     1 quart real mayonnaise
     1 cup buttermilk or sour cream
     1 teaspoon garlic salt
     1 teaspoon onion salt
     1 teaspoon Ac'cent
     2 tablespoons Salad Supreme
Mix well and chill. Serve with vegetable tray.

Main Dishes
- Count Von Count's Chicken Salad Sandwiches
Be sure to make 1, 2. TWO sandwiches per person. Ha, ha, ha!
2 to 4 c. cooked chicken, cubed
2 T. orange juice
2 T. vinegar
1 tsp. salt
3 c. cooked rice
½ c. small grapes (red)
1-1/2 c. chopped celery
1 c. pineapple tidbits, drained
1 c. mandarin oranges, drained and cut in half
1 c. toasted almonds
1-1/2 c. mayonnaise
Combine chicken, vinegar and salt. Let stand while preparing rest of the ingredients. Gently toss together all ingredients, and serve on crisp lettuce. Or for sandwiches, serve on croissant rolls.

- Oscar's BBQ sandwichs with chips
Oscar's "B" Sandwich
Oscar: It's an old family recipe. Everything in the sandwich starts with the letter B.


You begin with some brown bread and Boston-baked beans
Add boxes of bacon and bits of blue jeans
Boiled boots, billiard balls, black berries too
Butterscotch, broccoli, and buckets of glue


Place barbecued buttons on top of it all
A bunch of bananas and a basketball
A beef burger burned till it's black, oh boy!
A big blob of bubble gum, eat and enjoy! Heh Heh Heh


Now I'll just toss in this rotten old belt, and a bag of birdseed,
and this beat up, brown, battered and busted old balloon


Place barbecued buttons on top of it all
A bunch of bananas and a basketball
A beef burger burned till it's black, oh boy!
It's a big "B" sandwich, eat and enjoy!
Umm-Umm-Umm-Umm (chewing sounds)


Uh-Oh! Needs more bubblegum

Beverages
- Elmo's Pretty Punch - Strawberry Slushy
   2 cups frozen strawberries
   1 cup orange juice
   2 cups plain seltzer
   4 tablespoons strawberry jam
   2 cups ice cubes
Combine frozen strawberries, orange juice, seltzer, strawberry jam, and ice cubes in a blender and puree until smooth texture. Makes 4 servings.

Salads
- Sesame Seed Oriental Salad
   Salad
     3 to 4 chicken breasts
     1 small head of cabbage
     2 pkgs. chicken-flavored Ramen noodles (uncooked)
     2 (3 oz. each) pkgs. slivered almonds
     2 to 3 T. sesame seeds
   Dressing
     ½ c. vegetable oil
     ½ c. white vinegar
     1 tsp. salt
     1 tsp. pepper
     3 T sugar
     2 chicken-flavored packets (from Ramen pkgs.)
Boil chicken in salted water. Chop cabbage into thin slices. Crunch noodles while still in bags, then add noodles to cabbage. Brown almonds and sesame seeds in olive oil and add to cabbage along with cubed chicken. Whisk together oil, vinegar, sugar, seasoning packets, and salt and pepper. Pour over salad and lightly toss.

Desserts Cookie Monster's favorite: Big, Delicious chocolate chip cookies (of course!)
   1 cup butter
   1 cup sugar
   1 cup brown sugar
   2 eggs
   1 teaspoon vanilla
   2 cups flour
   2 1/2 cups blended oatmeal
   1/2 teaspoon salt
   1 teaspoon soda
   1 teaspoon baking powder
   12 oz package chocolate chips
   1 (8 oz.) Hershey chocolate bar, grated
Measure oatmeal and blend in a blender to a fina powder, or use quick cooking oatmeal. Cream butter and sugars together. Add eggs and vanilla. Mix together with flour, oatmeal, salt, baking powder, and soda. Add chocolate chips and 1/2 of the Hersheys bar. Roll into balls and place two inches apart on a greased cookie sheet. Bake for 10 minutes at 375 degrees. Makes 4-5 dozen cookies.

Click here for more baby shower party recipes - you can adapt any recipe and give it a fun name for a SESAME STREET theme.

____________________________________




SESAME STREET Baby Shower Party Gifts

These are fun, Sesame Street themed baby shower party gifts, and you should be able to find them at most baby stores.

- Sesame Street Diaper Cake – follow these directions on how to make a diaper cake . Then garnish the diaper cake on top with SESAME STREET toys, decorations, baby cloths, patterned bottles, towels, and diapers.

A SESAME STREET Receiving blanket

SESAME STREET baby clothing

A SESAME STREET nursery lamp

A SESAME STREET mobile

SESAME STREET bed linen

A SESAME STREET sign for the nursery

A garbage can (like Oscar's) filled with diapers, washcloths, lotion, bibs, towels, onesies, pacifiers, bottles, etc.

A SESAME STREET read or sing-along book or tape or CD

A Big Bird stuffed animal

Anything Elmo!
     Stuffed animal ELMO
     Elmo patterned onsies
     Elmo sleepers
     Elmo blankets
     Elmo books
     Elmo bed linen
     Elmo bath toy


____________________________________




SESAME STREET Baby Shower Party Centerpieces

Sesame Street Diaper Cake Decorate a diaper cake with SESAME STREET toys, decorations, baby cloths, patterned bottles, towels, and diapers. Click here for instructions on how to make a diaper cake

A Flower Bouquet would be a colorful, fun and refreshing baby shower party centerpiece. Flowers add so much texture to a room, and you could match the SESAME STREET theme by including bright REDS, YELLOWS, GREENS, and ORANGES.

Buy a Big Bird or Elmo or Cookie Monster medium sized stuffed animal and put a cloth diaper (or disposable if it fits) and give it a binkie & bottle, a onesie, and other baby accesories. This is SO cute!

____________________________________




SESAME STREET Baby Shower Party Games

SESAME STREET ABC Baby Game
Preparation for this free baby shower party game: This is a very simple, no preparation needed baby shower party game!
How to play this free baby shower party game: Start with the expectant mother and have her say a baby name that begins with the letter "A". Then go to the next guest, who must say a baby name that begins with the letter "B". Continue around the room until you have gone through the whole alphabet, A - Z. If a guest cannot think of a name in 10 to 15 seconds, they are skipped and are out. If you make it to Z with more than one person still in the circle, then there are multiple winners or you can play another round, A through Z until there is only one person left in the game.

Bert's Baby Shower Bingo
Bert's Bingo is fun and easy to play!
Preparation for this Baby Shower Party Bingo: Print off one of these baby shower bingo cards for each guest you expect to come.
How to Play this Baby Shower Party Bingo: Give each guest a card and 20 game pieces (candy, Hershey's Kisses, miniature plastic babies, etc.) Now, read the Sesame Street Story below to all the guests. Instruct them that as you read the story they are to listen for the words on their card. Each time they hear a word from their card they can put a game piece to cover that word. The first guest to cover 5 words on their card in a row, column or diagonal needs to shout BINGO! And they have won! If you haven't finished reading the story yet, keep reading but the game is over as soon as the 1st person wins. (Everyone would have Bingo at the end of the story).
If the guests want to play again, you could do 1 of 2 things: Take the winner's card and give her another one (because the same card will win every time), and read the story again. Or print an extra game card and cut out the squares of each word. Put them all in a hat and draw out one word at a time like regular Bingo.
Here is Bert's BINGO story:
Bert and the Beanstalk NOTE: This comes from Funk and Wagnalls' Sesame Street Treasury collection of books. Once upon a time, there lived a boy named Bert. One day Bert traded the family bicycle for a bag of magic beans. But Bert's buddy, Ernie, looked in the bag and said, "Beans? Blah! How boring." And he threw the boring beans out the back window. Immediately, the beans began to bloom. By breakfast, they had blossomed into a big, beautiful beanstalk. When Ernie saw the beanstalk he said, "Look. A big, beautiful beanstalk. That's really boring." But Bert wasn't a bit bored. "I feel brave!" Bert bellowed. So he bounded up the beanstalk. Up, up, up went Bert, beyond the bean blossoms, beyond the birds, beyond the blue ... until he came to a big black building. The building belonged to a giant named Burly Barney. Burly Barney was in the bedroom eating his breakfast of bushels of buttered buns, barrels of blueberries and bunches of bananas. When Bert saw how big Burly Barney was, Bert beat it to the back room. There, Bert found a big basket. It was full of bottlecaps. "Boy, oh boy, oh boy!" said Bert. "Bottlecaps! I collect bottlecaps!" So Bert brought the basket of bottlecaps back to the beanstalk. But Burly Barney saw Bert, and he began to bellow. "You took my bottlecaps!" "I'd better beat it," said Bert. Boldly, Bert climbed down. Barney bounded down behind him. But, on a bottom branch, Bert slipped and fell with a bump. "I'll bet you want to bash me because I borrowed your basket of bottlecaps," blurted Bert. "Are you batty?" bellowed Burly Barney. "Those bottlecaps are boring! They were driving me bananas! Thank you for borrowing my bottlecaps!" And Burly Barney shook Bert's hand. In fact, he shook Bert's whole body. Then Barney bounded back up the beanstalk to his beautiful black building. And now that the basket of bottlecaps belonged to Bert, Bert had the best and biggest bunch of bottlecaps on the block. So Bert was beaming. And everyone lived blissfully ever after. Except Ernie ... who was bored.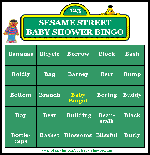 Free Printable Baby Shower Game Cards
A fun idea for a SESAME STREET baby shower party theme is to assign each guest (when they RSVP) a character from SESAME STREET and have them buy a baby shower gift appropriate for that character. For example, meal time baby gifts would be appropriate for Cookie Monster (a bib, bottle, etc.)
Assign each guest (when they RSVP) a character from SESAME STREET and they must wear something to the baby shower party that is indicative of that character. So it is not quite a costume party but the items people wear will provide some fun laughs and conversations. It also breaks the ice very nicely and let's everyone get to know each other. For example, if you had Big Bird, you could wear a yellow blouse and an orange skirt or pants or sandals.
____________________________________
Click here for more baby shower party ideas and tips!
Good Luck on your Sesame Street Baby Shower Party!
____________________________________
Let me know what you think of these ideas!
Or do you have any other Sesame Street Baby Shower ideas to add?
Please only press the Submit button once.
The file upload process may take several minutes. You should receive an email response within 5 minutes of submission.
If you don't receive an email response, you should submit your response again.
If there is a problem with your submission, please send your submission to feedback@plan-the-perfect-baby-shower.com
____________________________________