Sesame Street Bingo
New Baby Shower Games
After playing these new baby shower games, your guests will be singing all the way to Sesame Street! This is the Baby Shower Bingo SESAME STREET Game. Bingo is the Grandmother of Baby Shower Games and everyone loves to play!
These are the free printable Baby Shower Sesame Street Bingo cards. You will need a different card for each guest (so you don't have two guests winning at the same time). There are 20 different cards that you can print off here. There are five different cards on each page (so the pages will load faster). So go to all four Bingo pages to get all 20 different cards. Just follow the printing directions below and print a different card for each guest.


2nd set of Bingo cards
3rd set of Bingo cards 4th set of Bingo cards
Printing Instructions are found below.
The STORY and Game Instructions that corresponds to these SESAME STREET BINGO cards is found at the bottom of this page!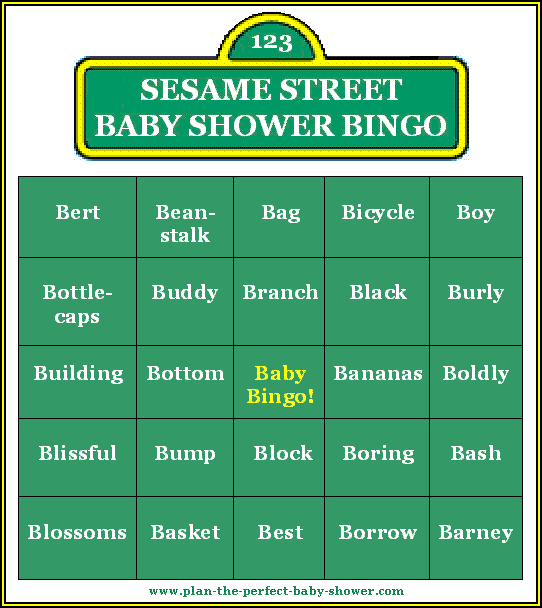 Printing Instructions: Right-click on the image you want and select the "save picture as..." line. Then, you will be asked which directory to save it to. Just save it onto your desktop or in any folder you want. Then on your desktop, double click on the image icon. When the image opens up, set your printer to the desired paper size and print the image (in color or black/white).
Another printing option: If you have Microsoft Word, after you "save picture as..." explained above, open a blank document in Microsoft Word and go to the tab INSERT and then select PICTURE and then select FROM FILE. From there you just choose the directory from your computer where you saved the picture and click INSERT. And Voila! You've got it!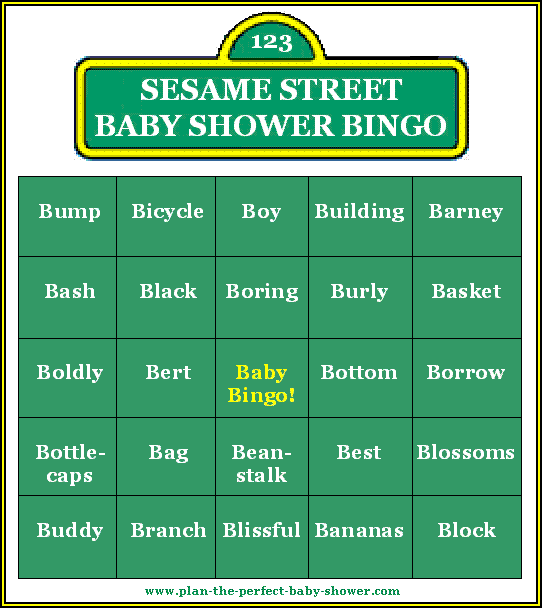 New Baby Shower Games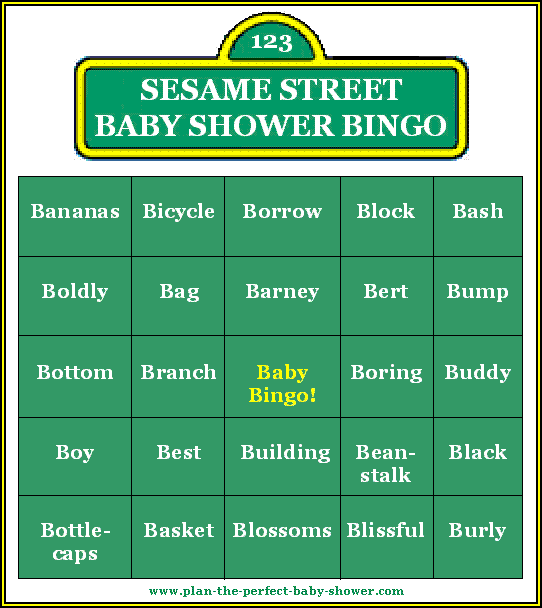 New Baby Shower Games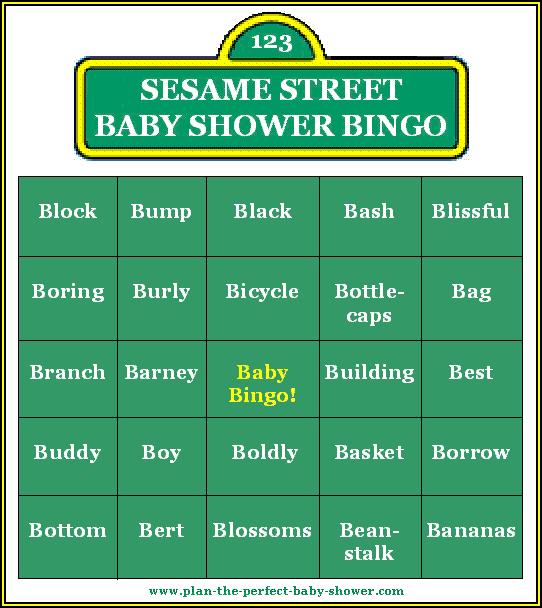 New Baby Shower Games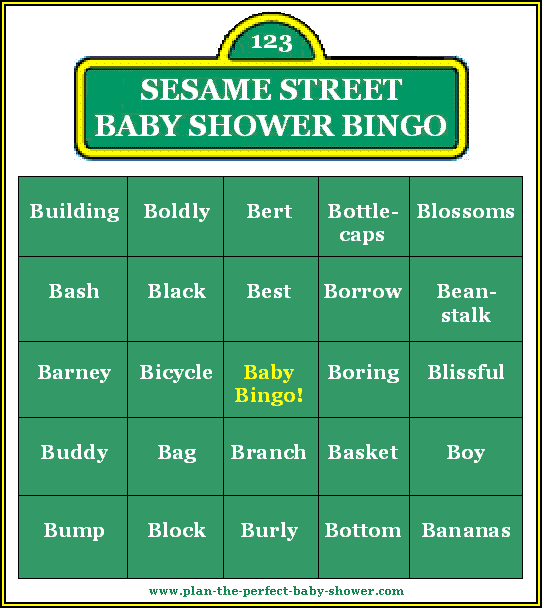 New Baby Shower Games
Click here for more new baby shower games !
________________________________________
Bert's Baby Shower Bingo
Bert's Bingo is fun and easy to play!
Preparation for this new Baby Shower Game: Print off one of these baby shower bingo cards for each guest you expect to come.
How to Play this new Baby Shower Game: Give each guest a card and 20 game pieces (candy, Hershey's Kisses, miniature plastic babies, etc.) Now, read the Sesame Street Story below to all the guests. Instruct them that as you read the story they are to listen for the words on their card. Each time they hear a word from their card they can put a game piece to cover that word. The first guest to cover 5 words on their card in a row, column or diagonal needs to shout BINGO! And they have won! If you haven't finished reading the story yet, keep reading but the game is over as soon as the 1st person wins. (Everyone would have Bingo at the end of the story).If the guests want to play again, you could do 1 of 2 things: Take the winner's card and give her another one (because the same card will win every time), and read the story again. Or print an extra game card and cut out the squares of each word. Put them all in a hat and draw out one word at a time like regular Bingo.
Here is Bert's BINGO story:
Bert and the Beanstalk NOTE: This comes from Funk and Wagnalls' Sesame Street Treasury collection of books.
Once upon a time, there lived a boy named Bert. One day Bert traded the family bicycle for a bag of magic beans. But Bert's buddy, Ernie, looked in the bag and said, "Beans? Blah! How boring." And he threw the boring beans out the back window. Immediately, the beans began to bloom. By breakfast, they had blossomed into a big, beautiful beanstalk. When Ernie saw the beanstalk he said, "Look. A big, beautiful beanstalk. That's really boring." But Bert wasn't a bit bored. "I feel brave!" Bert bellowed. So he bounded up the beanstalk. Up, up, up went Bert, beyond the bean blossoms, beyond the birds, beyond the blue ... until he came to a big black building. The building belonged to a giant named Burly Barney. Burly Barney was in the bedroom eating his breakfast of bushels of buttered buns, barrels of blueberries and bunches of bananas. When Bert saw how big Burly Barney was, Bert beat it to the back room. There, Bert found a big basket. It was full of bottlecaps. "Boy, oh boy, oh boy!" said Bert. "Bottlecaps! I collect bottlecaps!" So Bert brought the basket of bottlecaps back to the beanstalk. But Burly Barney saw Bert, and he began to bellow. "You took my bottlecaps!" "I'd better beat it," said Bert. Boldly, Bert climbed down. Barney bounded down behind him. But, on a bottom branch, Bert slipped and fell with a bump. "I'll bet you want to bash me because I borrowed your basket of bottlecaps," blurted Bert. "Are you batty?" bellowed Burly Barney. "Those bottlecaps are boring! They were driving me bananas! Thank you for borrowing my bottlecaps!" And Burly Barney shook Bert's hand. In fact, he shook Bert's whole body. Then Barney bounded back up the beanstalk to his beautiful black building. And now that the basket of bottlecaps belonged to Bert, Bert had the best and biggest bunch of bottlecaps on the block. So Bert was beaming. And everyone lived blissfully ever after. Except Ernie ... who was bored.
New Baby Shower Games