Pink Bunny Diaper Cake
by Dana
(TN)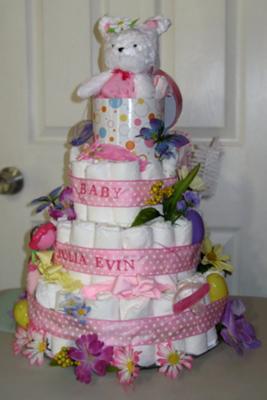 Perfect timing for a darling Pink Bunny Diaper Cake! The cake is so pretty and is a wonderful theme for an April baby shower! The flowers, bunny, colors and eggs shout Springtime! Such a delightful cake.

Dana put her adorable ideas together to make this sweet diaper cake and then she shared it with us to pay it forward and inspire others. Thanks for such a lovely diaper cake, Dana!

Do you have a diaper cake to share with others? Send it to us right here and we will add it to our diaper cake gallery!

Dana's Comment's
It was my first time making a Diaper Cake. It was so much fun to make.

It has 76 pampers swaddler diapers.In the center of the cake there is baby lotion, body wash, shampoo and desitin.

It also has a bottle, trinket box, blanket, 2 towels, 2 washcloths, 4 socks, 2 teethers, 4 headbands and a rattle.

Join in and write your own page! It's easy to do. How? Simply click here to return to Diaper Cake Invitation.