Girl Yellow Ducky Diaper Cake
by Misti
(Texas)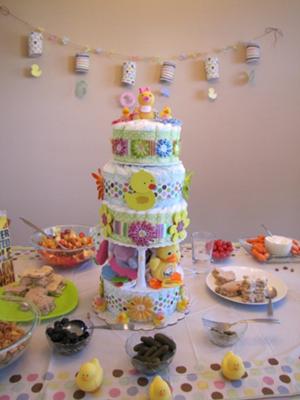 How do you make the perfect diaper cake? Just take a look below! This diaper cake is AHHH-MAZING! The bright colors and flower accents are divine. And it looks so cute with the yellow ducky and polka dot decor! Love it. So classy!

Misti sent us her yellow ducky diaper cake from the great state of Texas. Misti is one of our darling readers who has made this website the best diaper cake resource on the web, by sharing her own diaper cake experience, her pictures and her helpful hints. We love our readers! Misti, thanks for sharing your lovely diaper cake! It is downright dreamy!


Share YOUR diaper cake right here!
In Misti's own words
:

I made this diaper cake for my sister-in-law. I matched the cake to her baby shower theme (plates and napkins, etc.) I accented with the ducks. I went with the layered, not rolled, look. I like it much better as the diapers are easier to use after being in the cake. I tucked most of my extras in the middle open section. I bought 3 cake plates and pillars at Michael's craft store. I assembled it at home and had to carry it out of town. It came apart in separate pieces so that I could transport it.