Adorable Nappy Cake
A nappy cake, as they are called in the UK, is a wonderful gift for a baby shower. It is a beautiful centerpiece for the party and is a remarkable memory for the mommy-to-be. This darling baby boy cake was submitted by one of our British readers, Denise.
People from all over the world have submitted their diaper cake ideas, which makes this
cake photo gallery
a unique and special place on the internet. We share and share alike here, and Denise has shared her creative ideas and shown us how it is done in the United Kingdom.
Thank You, Denise!
This website is a more valuable resource with your ideas and pictures.
If you have a nappy cake that you would like to share, submit it here!
Baby Boy Cake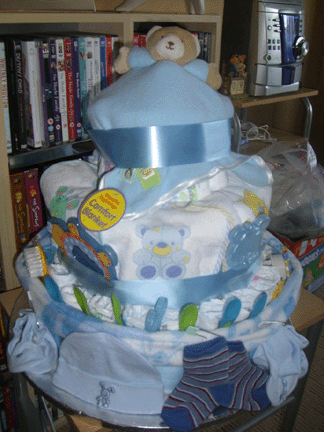 Denise's Comments:
Hi, i followed the instructions from your site to make my nappy cake gift, and included all the items in the pictures plus 75 nappies. Two of my daughter's are having baby boys, both due in August 2008, so i've another one to make yet. I am so pleased with the results and the instructions on your site were really easy to follow. This one cost £75 in total, that includes the items, nappies, wrap, ribbon and cake board. obviously these can be made any size and the cost would be dependant on the items included.
Denise
Margate, United Kingdom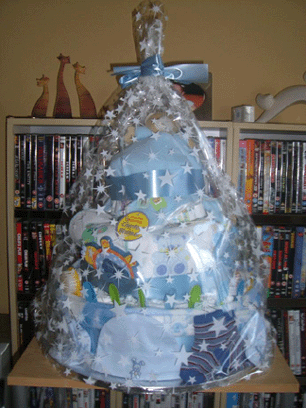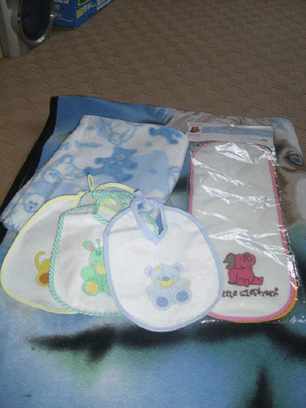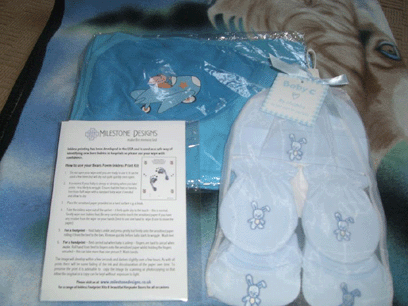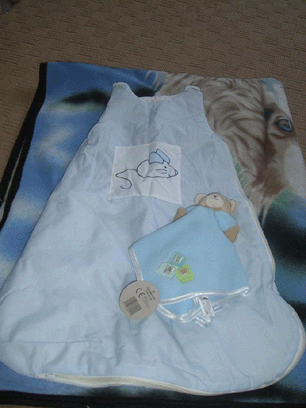 Thanks Denise!! I know your daughters will be THRILLED with your nappy cakes!
Return to our Nappy Cake Photo Gallery
If you liked this cute cake idea from Denise, learn how to make your own diaper cake, right here!