Kimberly's Three Tier Diaper Cake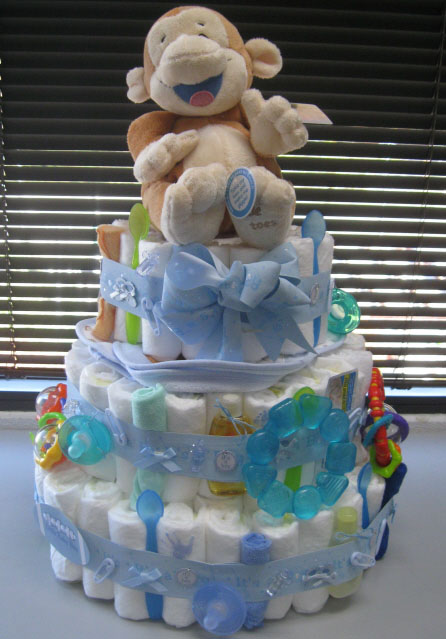 Kimberly's Comments:
Three tiered Baby Boy Diaper Cake (pictures are beginning cake, front view, and back view)
Cake Ingredients:
100 Pampers Swaddlers, size 1
2 pillar candles
plush teddy bear
2 packs of Soothies pacifiers
baby washcloths
baby spoons
3 baby bibs
Johnson & Johnson travel size essentials
assorted stickers, embellishments, ribbons, rubber bands
fleece blanket
rattles, teethers
The first step is to take the diapers and roll them starting from the top of the diaper and roll down. This keeps the outer edge of the diaper rolled into the middle. I prefer to roll the diaper so that only the white part of the diaper is showing. I keep the diapers secured with a rubber band. You can choose to use hair elastics or ribbon.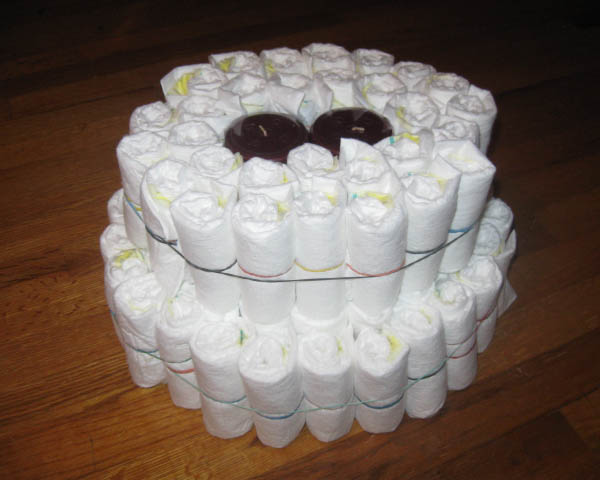 After rolling all of the diapers, I start making the tiers of the cake. I put the two pillar candles together in the middle of the cake to make a sturdy center. I start with the bottom layer of the cake. I used 55 of the diapers. I start with a layer around the candles, secure with a larger rubber band and keep building out until I have three rows of diapers around the candles. I used 30 diapers for the second tier and 15 diapers for the top tier. I used a big rubber band around the outside of each layer to keep it secured.
Once the "naked" cake is completed, I move the cake to a cookie sheet or flat container to allow easy transportation. Underneath the cake, I added a fleece blanket to cover up the cookie sheet. I used a 1.5 inch ribbon to cover the rubber bands. I wrapped once around each tier, leaving enough ribbon to make a small bow.
After the ribbon is on, I started filling in with items and embellishments. I stuck the washcloths and the Johnson and Johnson products in with the diapers behind the ribbon. I stuck the scrapbooking stickers to the ribbons. I used a hot glue gun to stick the plastic diaper pins and plastic bottles. I also used the hot glue gun to attach the scrapbooking embellishments.
I added a cute plush puppy that giggles to the top of the cake. I also set rattles and teething rings around the cake. These were not glued on as they need to be clean for upcoming use by the baby. I also decorated with the bigger items in front and used mostly embellishments in the back.
Thanks!
Kimberly
Knoxville, Tennessee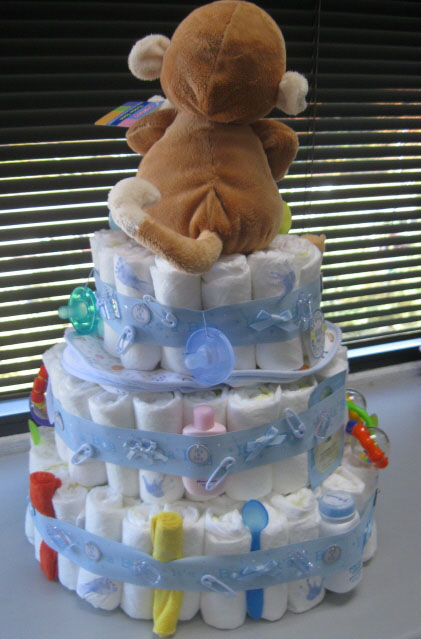 Thanks for sharing your cute three tier diaper cake Kimberly!! All your pictures and instructions are WONDERFUL!