Baby boy diaper cake/Dog diaper cake
by Beth
(California)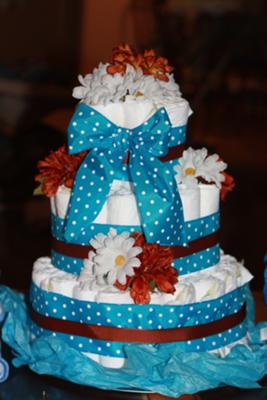 These are two different, two creative and two ADORABLE diaper cakes! TOO CUTE! I love seeing unique and fresh takes on diaper cakes, and this is a fresh take!

Beth paid it forward and submitted her two diaper cakes to our diaper cake gallery. Our readers are what makes this the BEST baby shower resource on the web! Beth, thank you for submitting your cute & creative diaper cakes!

Beth's Comments:

Made this diaper cake for a friend's shower for her baby boy. The colors she picked for the nursery were chocolate brown and sky blue. The blue ribbon which I got from the dollar store wasn't a perfect match but was a turquoise color which I thought would still look nice. I also got the fake flowers from the dollar store and it was perfect. I centered the cake around an empty paper towel tube which kept it lightweight and easy to carry. I individually rolled the diapers and tied them off with the clear hair ties. I got a "silver" platter from the dollar store to put it on.

Dog Diaper cake: This requires a spiral formation of the diapers. To make it that way I laid the diapers flat and overlapping about half way make sure the print is facing in. Then I rolled from one end and rolled up the diapers until I had the size I wanted for the head (not sure how many diapers I used). I used a large rubber band around the whole spiral to keep it together. This required someone else to help put the band around. For the "body" I folded three diapers in half and stacked them on top of each other and secured them with a rubber band going over the sides of the diaper not the ends. I made two stacks. Then I rolled two diapers and tied them with the clear hair tie to make the "legs." Use two baby wash cloths tucked into the top of the rubber band to make the "ears." Use a bib to hook up under the dog's "head" to cover everything behind. I put two wiggle eyes and a black pom-pom to make the nose.
Join in and write your own page! It's easy to do. How? Simply click here to return to Diaper Cake Invitation.