Puppy Dog Diaper Cake
"Happiness is a little puppy dog," and this Puppy Dog Diaper Cake is no different. Every time I look at it, it just makes me happy! The colors are perfect for a little boy baby shower, and the embellishments are simply adorable. Especially the floppy-eared puppy dog cake topper!
This website has the best readers on the web, and Heather from Columbus is one of those. She made this darling diaper cake and submitted her creative ideas for the rest to gather ideas from, to see what she did, how she did it, and to realize that making your own diaper cake is definitely a project you can do yourself! Thanks for sharing, Heather! Your cake is adorable!
If you would like to share your baby diaper cake pictures & ingredients, submit them here
Heather's Little Boys Love Puppy Dogs Diaper Cake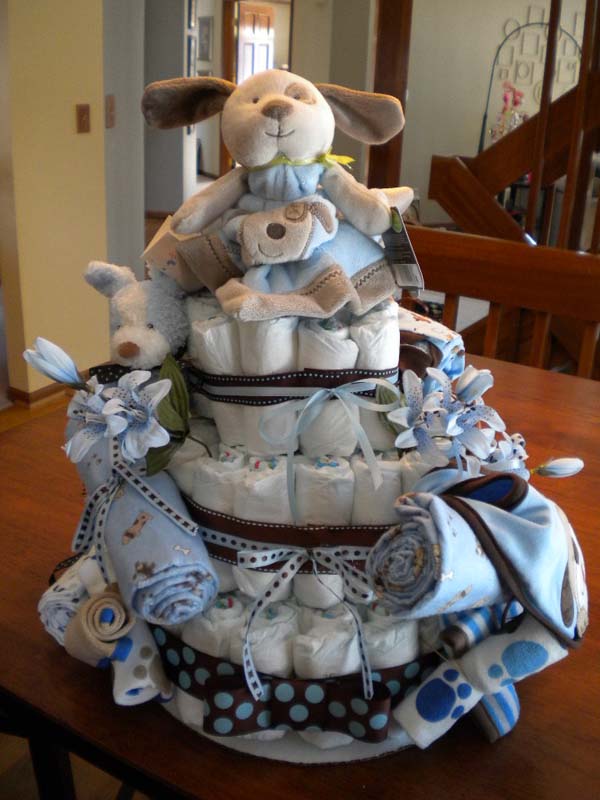 Heather's Comments:
Your website was great! Followed directions to a tee and the result was adorable. Just added embellishments themed in brown and baby blue with puppy dogs (teether, stuffed doggie rattle, sleeper, bib, wash cloths, towel, blanket, silk flowers, feeding spoons)
Heather
Columbus, OH

Thanks for sharing Heather! So Cute!!
If you liked Heather's puppy dog diaper cake, then check out the rest of our diaper cake gallery!
Follow these simple diaper cake instructions & pictures for an cute & easy baby shower diaper cake.