Princess Diaper Cake
This Princess Diaper Cake definitely lives up to it's name! It is loaded to the hilt with baby essentials and it is beautiful as well! See how it was made with Andrea's diaper cake recipe below...
Andrea's wonderful diaper cake is a creative source of inspiration and ideas for the rest of us! She is part of the foundation of this website, because she is "paying it forward" by sharing her ideas for the rest of us to see. This website is a thorough and cute resource because of our amazing readers! So Thank You, Andrea! Your diaper cake is fabulous!
If you have a diaper cake design with pictures & instructions that you would like to share, submit them here ...
Andrea's Girl Diaper Cake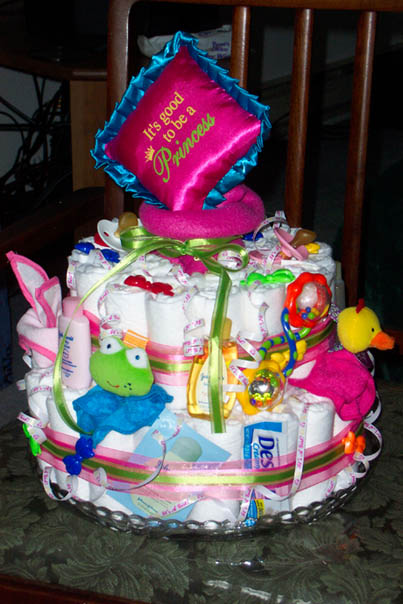 Andrea's Comments:
I used a package of 60 diapers, size 1. I used rubber bands to wrap each diaper and then large bands to hold the tiers together. I did need help to get the tiers together. I rolled a baby blanket and used it for the middle of the tiers. I wrapped ribbon around the cake to cover the rubber bands and used double stick tape to attach the goodies. I curled "It's a girl" ribbon and stuck them randomly in the diapers.
Truly an amazing diaper cake, Andrea! Thanks so much for sharing!!
If you liked this Princess Diaper Cake, check out these other diaper cake themes and ideas...
Want to make your own diaper cake, but don't know where to begin? Here are simple, illustrated diaper cake instructions that make it easy!