Heather's Duck Baby Shower Cake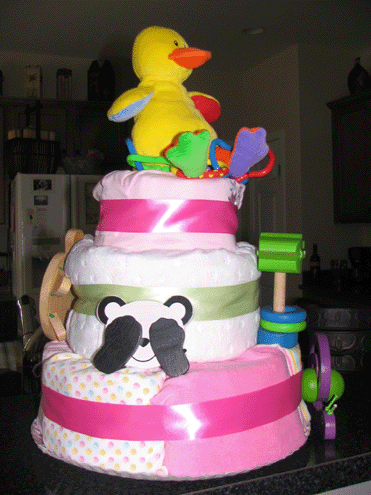 Heather's Comments:
I followed basic instructions from this website and found it was fun and easy to create a diaper cake!
Ingredients:
"Core" - 1 large bottle Johnson's baby shampoo, 1 smaller bottle Aveeno baby wash
Bottom Layer - 44 sz 1 Pamper's Swaddlers. Outler layer wrapped in 6 baby washcloths
Middle Layer - 23 Newborn Pamper's Swaddlers. Outler layer wrapped in 1 receiving blanket
Top Layer - 15 Newborn Pamper's Swaddlers. Entire layer stuffed inside one newborn onesie
Each diaper was rolled and secured with clear hair elastics, then groups of diapers were bound with large rubberbands and finally covered with satin ribbon fastened with Res-Q fabric tape. Decorations included 4 wooden toys (by Melissa & Doug). The top was a plush rattle duck on a 'nest' of plastic links. I estimate the total project cost was about $60 because I was able to score some fantastic sales on the blanket and toys and used coupons, etc. The retail value of the cake is closer to $100.
I can't wait to make another diaper cake!
Other decorations: baby clothesline filled with outfits, onesies, bib, shoes & blanket. Plus your traditional hanging cut-outs, flowers, balloons, etc.
Food: Buffet style - chicken salad, rolls, mini quiches, veggies & dip, Pineapple~Orange Punch, Chocolate Fountain with dippers: marshmallows, dried apricots, pretzle rods, strawberries and pineapple. Cupcake cake to match invitations.
Favors: Gift bags filled with bags of microwavable popcorn (labeled Amy's Ready to Pop!) and Hershey minis and kisses also labeled with the Mom-to-Be's name and shower date. Beverages also labeled and all labels matched invitations. All items purchased from eBayer 'Bless Express'.
Kelly Williams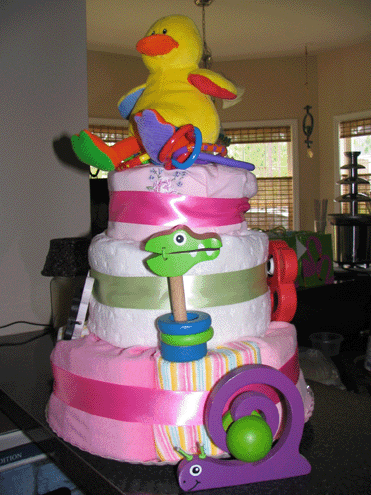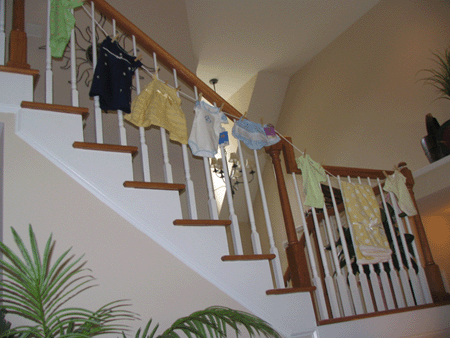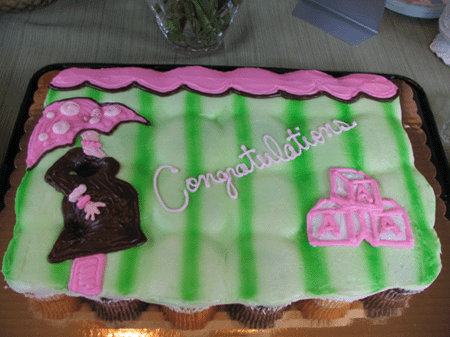 Thanks Heather! Your diaper cake turned out so cute!!