simple cake for boy
by Jessica Dalton
(farmington,nm)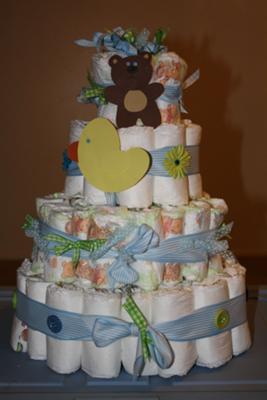 Here are two wonderful diaper cakes for baby boys! Simple and sweet, these diaper cakes are cute to look at and a HUGE help for the expectant mother. Loaded with diapers, decorations and supplies, these diaper cakes make for a darling baby shower gift. These cakes turned out so pretty!

Jessica submitted these two adorable diaper cakes to give the rest of us ides of how to make a diaper cake, and to "pay it forward" by sharing her creativity to inspire others. Thanks a million Jessica! Such pretty diaper cakes!

View our diaper cake photo gallery

Submit your own diaper cake photos and ideas by going to our diaper cake submission page.

Jessica's Comments:
Our first attempts at diaper "baking"!
One made for me at my shower, another I did for a friend.