Bassinet Diaper Cake
by April N
(Camarillo, CA)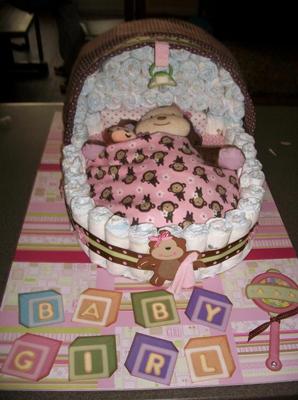 Unbelievable! I luh-love this bassinet diaper cake! SO creative and it turned out SO cute as well! What a fun idea to do a diaper cake in the shape of a bassinet! This is truly one-of-a-kind!. April created this A-mazingly clever bassinet diaper cake and now she has gone to the additional effort to share her time, talents and creativity with the rest of us to 'Pay it Forward' and pass along her creative flame!


I am constantly impressed with each new diaper cake submission we get from our wonderful readers. I am impressed with not only the cute styles and creativity of each diaper cake, but also with the desire that our readers have to share their ideas with others. Kindness to strangers is alive and well here at our diaper cake gallery! All thanks to readers like April.
Thanks for your inspiring, creative and downright adorable diaper cake, April!!
If you have a diaper cake to share with us, we would love to post it here for all to see! Just follow the link at the bottom of the page.
Click here to see other diaper cakes in our Photo Gallery...
April's Comments:


88 size 1-2 huggies
3 recieving blankets
1 box of baby wipes
1 pacifier
adorable monkeys :)

This diaper cake isn't about what's inside... it's just about the look!!! I looked and looked for a diaper bassinet to do and just decided to go for it and figure it out on my own! With a help of a friend, we set a shape and built it from the outside in.

Look for my 'Train Diaper Cake' as well :)