Baby Girl Diaper Cake
This baby girl diaper cake is LOADED with baby items, diapers and cute ideas! Diane is a first time grandmother and made this cake to celebrate her daughter's upcoming bundle of joy! It is adorable - from the cute baby footprint ribbon to the cuddly bear on top. Check it out...
Diane is a sweetheart for taking the time to share her ideas, photos and tips. We love ideas and we appreciate each person who "pays if forward" by sharing their ideas here. Thank you, Diane! What a treat!
If you have some baby diaper cake pictures & instructions that you would like to share, submit them here...
Diane's Baby Girl Diaper Cake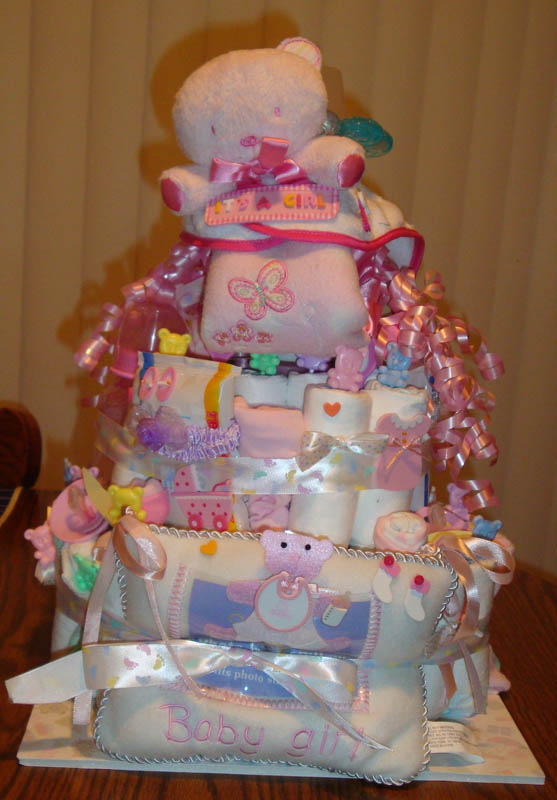 Diane's Comments:
I came across diaper cakes when I was looking for shower games. I thought they were really cute and didn't look all that hard to make! My daughter is expecting a girl (my first grandbaby!) in November so I made the diaper cake for two of her showers she will be having to use as a centerpiece. I used a large baby lotion as the center bottom core and surrounded it by diapers. The next layer is also diapers but when I ran out of diapers, instead of buying more, I went to the dollar store and got baby washclothes, bottles, handy wipe packages and a picture pillow and used them as "fillers", replacing the diapers with them so the diapers I did have could be used on the 2nd and 3rd layer. I also bought little teddy bear picks, curling ribbon and a bib at the dollar store. The top layer I only had 5 diapers to surround the bottle so I draped a bib over the top of it (kind of like a cape for the blankee dollie). The whole thing cost around $30. I am anxious for my daughter to see it!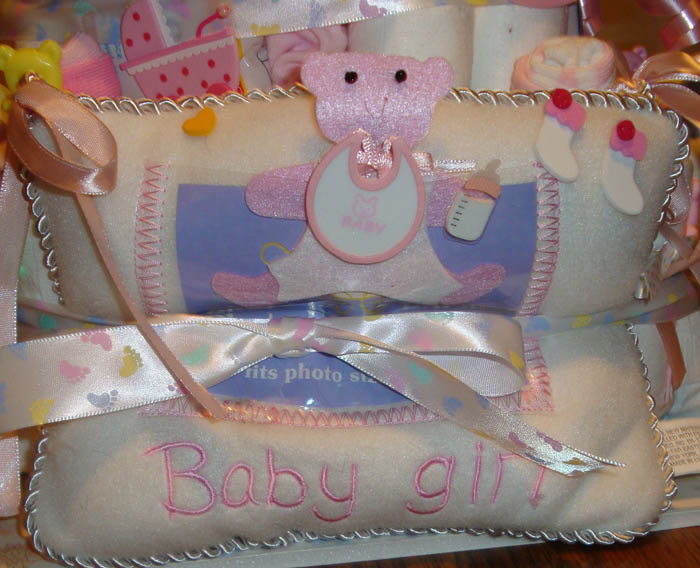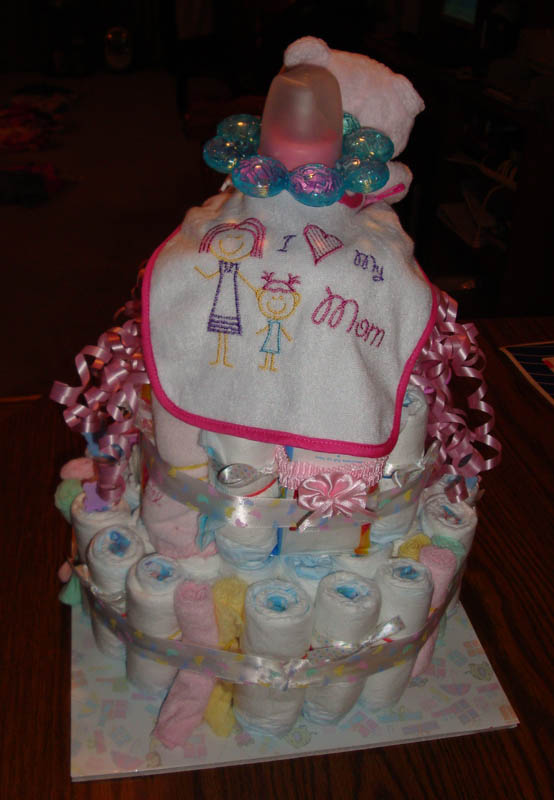 Adorable! Diane, your daughter is going to love it!! Thank You!
Find more Baby Girl Diaper Cake ideas in our diaper cake photo gallery
Want to make your own diaper cake?
Follow these easy instructions to make your own diaper cake.
It is a simple, step-by-step method. You can do it!