Rock Star Girl Cake
by Mindy
(Overland Park, KS)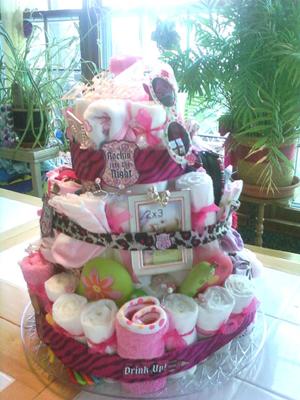 If you're looking for some rockstar diaper cake ideas, you've found them right here! Mindy has created an adorable and hip diaper cake for a baby rock star, complete with leopard print and sunglasses. Love it!

Mindy has shared her inspiration for the rest of us to 'pay it forward' and add to the amazing collection of diaper cake ideas on this site. Mindy is another fabulous example of why I consider all of my readers as Rockstars! Thanks for sharing Mindy! Your diaper cake is awesome!

If you have a diaper cake to share, and help 'pay it forward', just follow the link at the bottom of this page.

Mindy's Comments:
I made this cake for my sister's baby shower and got the directions from this site and added a little creative flair. It was super easy! I found some really cute scrapbooking stickers that I put around the ribbons that added a fun feel. And I went to the store and purchased items from her registry to put on the cake (bath toys, washcloths, onesies, picture frames,etc). The 2 things I really liked the best of the cake were the sunglasses and little hair clips along with the pacifier with the baby's name on it. Don't be intimidated by these! If I can do it so can you!!!
Join in and write your own page! It's easy to do. How? Simply click here to return to Diaper Cake Invitation.