Monkey Diaper Cake
This fun & creative monkey diaper cake is dripping with creativity! Just take a look below. I love the colors, the flowers and the pillars give it such a unique & fun look! What a beautiful diaper cake!
This work of art is the 2nd diaper cake that Lynn has submitted - and they are both AMAZING! Click here to see her other one. Lynn is truly a wonderful person for sharing her stunning diaper cake ideas with all of us. She is numbered among our many remarkable readers who give of themselves to share their ideas with the rest of us. Thank you Lynn! What an inspiration!
If you have some baby diaper cake pictures & instructions that you would like to share, submit them here...
Lynn's Monkey Diaper Cake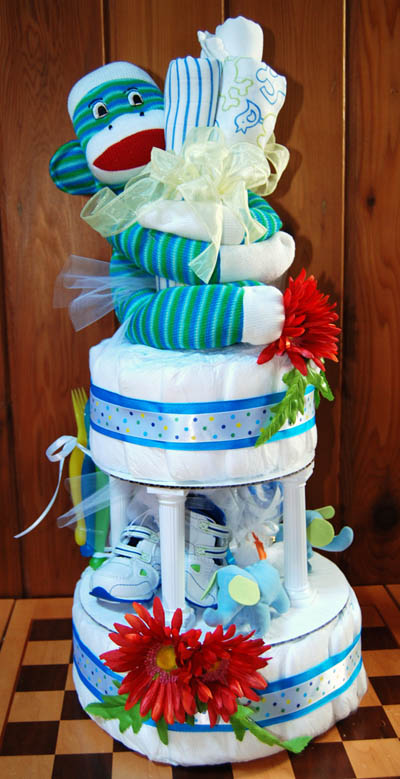 Lynn's Comments:
I loved the colors that this one ended up with. Sometime the cakes just take on a life of their own and it's best if you just run with it. This cakes ingredients are:1 fitted crib sheet - 1 sheet saver pad - 1 sock monkey - 3 burp cloths - 1 pair of baby shoes - 3 onesies - 2 sets of disposable flatware - 2 wash cloth lollipops - 4 PeePee TeePee's - 50 disposable diapers ( size 3 ).
I like to use the cake columns in order to create a space for extra fillings and also adds height to make the cake really grande.
Hope you like it.
Lynn Lyle - Lutz, FL
Lynn, a huge thanks from everyone reading this!!
If you liked this Monkey Diaper Cake then take a gander at our Photo Gallery for some more diaper cake ideas & themes
Want to make your own diaper cake, but don't know where to start - Follow 3 simple steps and you'll have a diaper cake in just an hour or two!