A Cute Boy Diaper Cake
Take a look below to find out how Angela created this adorable Baby Boy Diaper Cake. She shares with us her instructions and a great photo. She has some great money saving ideas to make a diaper cake and some cute decorations, including a Monkey on top!
Angela is making this website a more valuable resource for all of us! By sharing her ideas and photo, Angela is helping us get our own creative juices flowing and we can come up with our own unique diaper cakes. Then we can submit our ideas here to help others, and so it goes on and on. Angela is a great example of why this website is the best diaper cake resource on the web! Thanks for sharing your wonderful diaper cake Angela! Check it out below:
If you have some baby diaper cake ideas, pictures or instructions that you would like to share, submit 'em right here...
Angela's Baby Boy Diaper Cake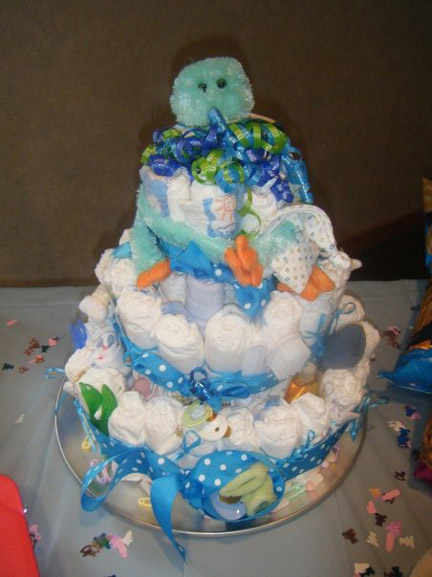 Angela's Comments:
I used more diapers than suggested to provide for a stable base. I used a 20 oz. bottle of baby shampoo for the center of the first and second layer and I used a 5 ounce baby powder for the last tier. I basically followed the instructions as shown, and my diaper cake turned out awesome. Most of my items I bought on clearance from Target and Wal-Mart, and I bought other items from the Dollar Tree, such as the Monkey on top. His hands were velcro so he was able to grab the top layer, and it helped secure it. I don't have a picture of the back, but he is sitting on a baby teething ring so his head peeks over the top. I bought a travel kit at Wal-Mart that had travel sized lotions and shampoos that I hid in the layers. I put forks and spoons on the cake, pacifers, socks, a baby bib, baby towels, a hat, and some various other items. I put my cake on a pizza baking pan from Wal-mart it was only a few dollars. Awesome web site, highly recommend making one for a baby shower.
Thanks Angela! Truly an adorable cake!!
Find a whole lot more baby girl and boy diaper cake ideas that readers have submitted right here...
If you want to make a diaper cake and need step-by-step diaper cake instructions with detailed photographs, then look no further!