Frogs n Flowers Diaper Cake
This frogs n flowers diaper cake is easy on the eyes and almost good enough to eat! I love the flowers tucked here and there around the cake, and the colors go so well together. A truly fabulous cake submitted by Amy, from New York.
Each and every one of the diaper cakes submitted on this website has been done so out of the goodness and thoughtfulness of each submitter's heart. Amy is one of the many amazing and sharing readers who has made this website more helpful for the rest of us by submitting her creative and beautiful diaper cake ideas. Thank You Amy! We can all get some cute ideas from this cake!
If you have some baby diaper cake pictures & instructions that you would like to share, submit them here ...
Amy's Frogs 'n Flowers Diaper Cake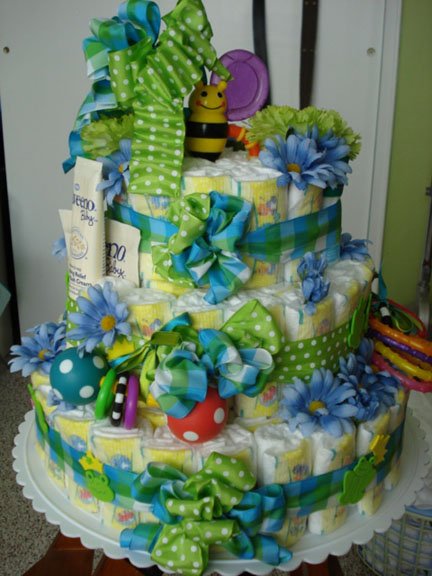 Amy's Comments:
Description: I couldn't have done it w/o this site !! THANK U~~ I used 120 swaddler newborn size diapers with the Sesame Street print. I rolled each one so that the print was facing the outside and secured them with small rubber bands. For the center structure I used a tall bottle of Johnson's Softlotion (not for baby but mom can use it) and surrounded it with a circle of diapers, then tied them down with a thin piece of ribbon. Then I repeated that until there were about 4 circular rows. The same for the 2nd tier minus 1 row and then the same for the 3rd tier minus 1 row. I used a wider opaque wired ribbon to wrap around each tier and tied with a bow. The flowers were artificial flowers that I just snipped the top of and stuck them here and there. I used froggie foam stickers to decorate the ribbon, and finally added some baby products and baby toys to finish it off.
THANK YOU !!
~amy~
Thanks Amy! Whoever gets this cake is a lucky girl!!!
Check out our Diaper Cake Idea Gallery for some more cute flowers diaper cake ideas and other themes
Making your own diaper cake is not as hard as you might think! Click Here for easy-to-follow diaper cake directions with step-by-step photos...