Purple Princess Palace Diaper Cake
by Toni
(Pennsylvania)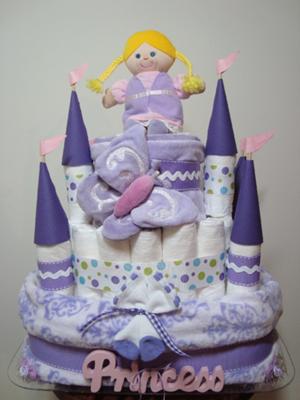 Cake Front View
So I have been trying to decide how to adequately describe what I think of this AMAZING diaper cake. This is such a unique, fun and awe-inspiring diaper cake! What a great idea to make a castle for a princess baby shower theme. Luh, luh, LOVE it!


Toni has added this fabulous diaper cake to our amazing diaper cake gallery, which has the best, most creative, and largest collection of diaper cakes on the web! We are so lucky to have such amazing readers who are willing to take of their time and talents to share their ideas, pics, tips and advice on how to make unique diaper cakes.
Thanks so much, Toni, for 'paying it forward' and sharing your diaper cake work of art! And CONGRATULATIONS on your first granddaughter!! So exciting!
We would love to post your diaper cake ideas on our diaper cake gallery! Please follow the link at the bottom of this page to share your pics & ideas...
In Toni's own words:

I made this diaper cake for my daughter-in-law who was expecting my first granddaughter! She was so excited about her "Little Princess" to be.

Ingredients:
60 Pampers Swaddlers (Size 2)
1 Pampers Sensitive Wipes (24 count)
1 12oz Aveeno Baby Wash & Shampoo
1 My 1st Doll by Danara (Ages 0m+)
1 Silicone Avent BPA Free Orthodontic Pacifier
4 Pair Socks (6-12 months)
1 Purple Bib
1 Purple Butterfly Security Blanket
1 Purple Changing Pad Cover
1 Brush & Comb set
6 Piece Ponytail holders