Polka Dot Diaper Cake, Invite & Favors
This polka dot diaper cake is coming to us right outta the Aloha State! This is a picture perfect diaper cake with matching polka dot invitations, favors and baby shower gift. I love the Polka Dot theme for a baby shower! It is so cute and hip! All of these polka dot baby shower ideas was created and submitted by one of our AMAZING readers, Judy!
The heart of this website is the collective ideas and creativity that all of our readers have submitted. And Judy has truly enriched this website with her adorable ideas. SO Judy, thank you from everyone who visits this website!!
If you have some pictures or ideas of a diaper cake and/or baby shower that you would like to share, submit 'em right here!
Judy's Polka Dot Diaper Cake
Judy's Comments:

Ingredients: *Total cost about $35.00*
80 Swaddlers diapers size 1-2
12" cardboard cake circle
Empty paper towel roll
Empty toilet paper roll
3 yards of 1.5" wide grosgrain ribbon
8 yards of 3/8" organza ribbon
crinkle basket shred
travel size baby wash, powder, shampoo, lotion, cotton swabs
2 bibs, rolled
infant tylenol drops
brush & comb set
pacifier
bottle brush
cupcake pictures printed on glossy paper
Recipe:
I used a "layered" method instead of "rolled" method for my diaper cake. (I waited till the last minute to make the cake, so I needed to save some time).
-Tape the empty rolls together and glue gun/tape them to the cake circle.
-Place the diapers on its side and layer them about 1" apart. Wrap rubber bands around to secure.
-Number of diapers starting from the bottom tier: 40 / 25 / 10 / 5 -Starting from the bottom tier, place tiers on top of the empty rolls and slide down to the base.
-Cut grosgrain ribbon to size of tier and secure with glue gun
-Cut organza ribbon in 20-24" strips
-Tie organza ribbon to the gosgrain ribbon (wherever you want to place your baby item)
-Then tie your baby item with the organza ribbon
-Stick the bottle brush in the top tier
-Tape the cupcake pictures to the grosgrain ribbon (wherever there is an empty space)
-Stuff crinkle shred underneath the bottom tier to hide the cake circle
EVERYONE LOVED THE CAKE!!!
Judy Ramos
Ocean Pointe, Hawaii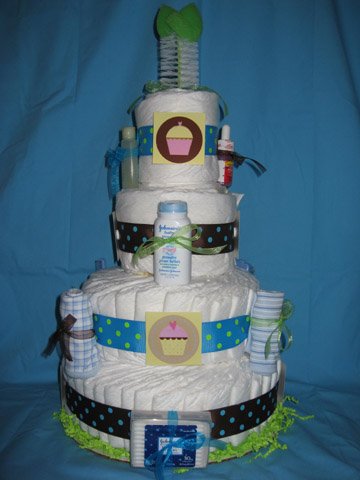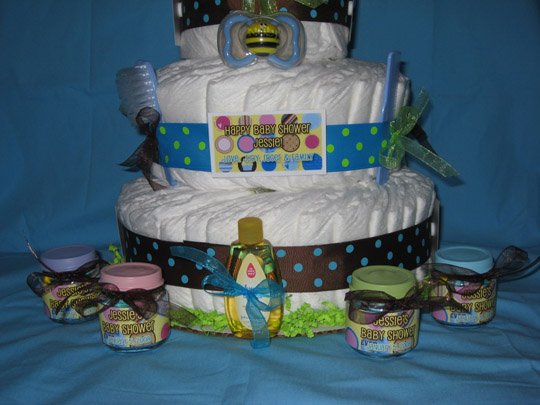 Beautiful. Absolutely beautiful, Judy! Thanks for sharing your Polka Dot diaper cake!!
Judy's Polka Dot Invitations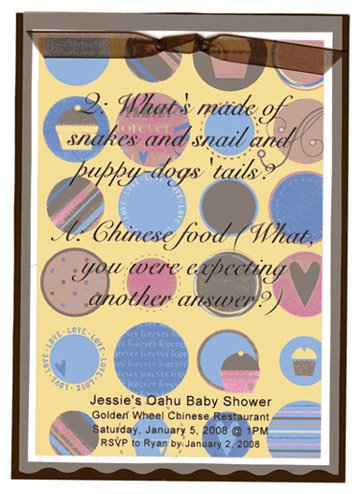 Made from vellum, cardstock & scrapbook paper.
Tied with organza ribbon
Judy's Polka Dot Favors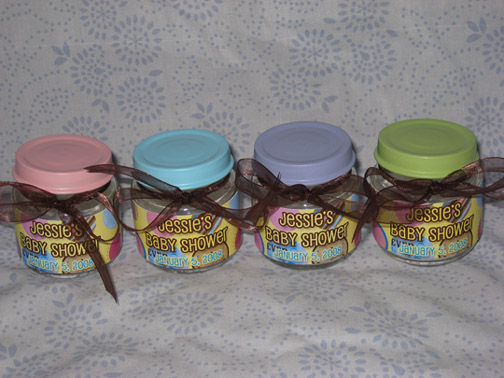 BABY FOOD JAR FAVOR
Colored the lids with pastel spray paint
Printed out the label on glossy paper
Tied with organza ribbon
Filled with pastel candies
Judy's Polka Dot Gift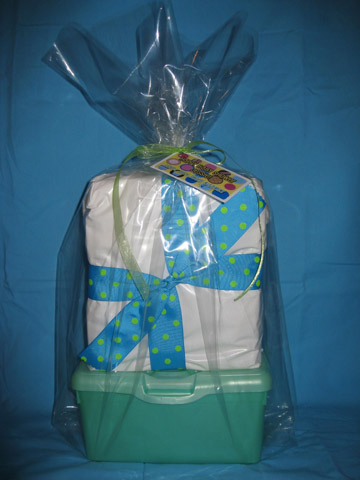 BABY WIPES GIFT:
Placed empty wipes container on bottom of clear cello bag
Tied grosgrain ribbon to pack of baby wipes
Placed wipes on top of container in bag
Tied with organza ribbon
If you liked this Polka Dot Diaper Cake, check out these other diaper cake themes and ideas...
Make a splash at the baby shower by making your own diaper cake! Here are step-by-step, simple diaper cake instructions!