Going on Safari ~ Diaper Cake
by Tana Cox
(Northwest Iowa)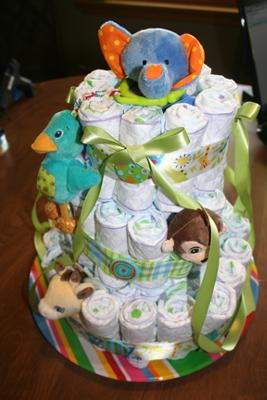 Take a look at this marvelous diaper cake and the marvelous instructions that go along with it! This is sure to get your creative imagination started and on your way to creating a super cute diaper cake that is 'All You'!

This darling diaper cake was submitted by Tana from Iowa. She did such an excellent job and we are so happy to share it with everyone! Enjoy! Thanks so much Tana!

Share your diaper cake with the WORLD right here...

Tana's Comments:
Following the directions given on this site of How to Make a Diaper Cake this is how I changed it up a bit.
• Roll Diapers and secure with small rubber bands
o 31 Size 2 Luvs
o 28 Size 1 Luvs
• Bottom Tier - Size 2 Luvs
o Large rubber band around 15 oz. bottle of Lavender Johnson's Baby Shampoo in the center of the platter.
o Inner Row = 7 diapers
o Middle Row = 13 diapers
o Third Row = 17 diapers and one Garanimals Plush Hand Rattle
• Center Tier - Size 1 Luvs rubber band around the top of the 15 oz. bottle of Baby Shampoo
o Inner Row = 6 diapers
o Outer Row = 12 diapers Garanimals Plush Hand Rattle
• Top Tier – Size 1 Luvs; rubber band around Garanimals Wood & Plush Elephant Stacker
o Outer Row = 10 diapers
o Stuffed 4 pair of No Scratch Mittens between the toy in the center and outer row
• Wrap 1 ½ in Ribbon around all three tiers covering the rubber bands, hot glue to itself to secure, and hot glue a large button on the seam of the ribbon.
• Create bows with 5/8 in Ribbon with long tails, and hot glue them to the top of the ribbon that is wrapped around the Top Tier; twirl ends to create trundles of the ribbon tails to the bottom of the cake platter.
Join in and write your own page! It's easy to do. How? Simply click here to return to Diaper Cake Invitation.