Precious Diaper Cake
This precious diaper cake has plenty of frills - bows, ribbons, and flowers. I love the pink curly ribbon - it gives it a very delicate touch. What a gorgeous diaper cake and perfect for a baby girl shower!
Jodi is the artist behind this diaper cake canvas, and she is a wonderful example of someone coming to this website for ideas and then sharing the diaper cake that she created. This website is quality and helpful because of our readers. Jodi, thanks for your beautiful ideas!
If you have some baby diaper cake pictures & instructions that you would like to share, submit them here...
Jodi's Diaper Cake
Jodi's Comments:
This is my first diaper cake of many more to come. It was so fun to make and I thank this site for all the suggestions, pictures and detailed instructions it offered. I didn't keep track of how many diapers I used or even all the items I used to decorate it. I wish I would have so I could shared it with all of you. I will make sure to pay attention to all the details of the next one I make and post it on here. Thanks again for the ideas and inspiration for making my first diaper cake. :)
Jodi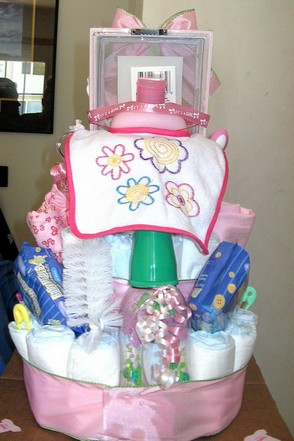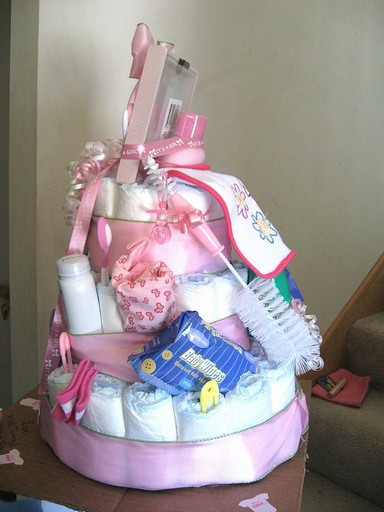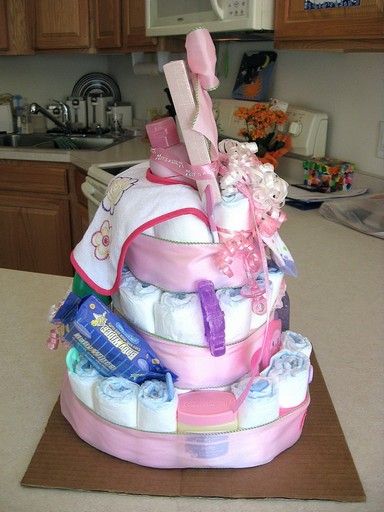 Thank You Jodi - it is absolutely adorable!
If you liked Jodi's precious diaper cake then take a look at our diaper cake gallery for more cute ideas & themes
It's easy to make your own diaper cake. Where should you start? Follow these 3 simple steps and you'll have a diaper cake in just an hour or two!