Sweet and Simple Diaper Cake Design
This is a wonderfully cute and simple diaper cake design. The yellow polka-dots are my favorite! With some very helpful ideas and step-by-step instructions, Carol shares some of her cute diaper cake ideas.
When making your own diaper cake, it helps a lot to get ideas from other people. That is exactly what our diaper cake gallery is all about - to provide a resource for everyone to get and give ideas about diaper cakes. "Paying it forward" is what our readers do. Carol has submitted her wonderful diaper cake design and has helped make this website a better resource. Thanks Carol!
If you have a diaper cake design with pictures & instructions that you would like to share, submit them here ...
Carol's Simply Sweet Diaper Cake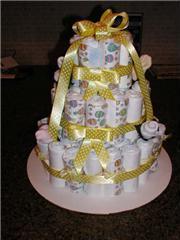 Carol's Comments:
The mommy to be was very simple in her tastes so I decided to make a diaper cake without all the baby items around it.
I started out with Baby Shampoo for the bottom and rolled the diapers around it for three rows. I then put a 1 inch yellow ribbon around the base layer and tied little yellow bows around every other diaper.
The second tier was 2 rows wide and also surronded by the 1 inch ribbon.
The third tier was wraped around a small bottle of baby powder and covered by the 1 inch ribbon.
A bow was made for the top and smaller bows were placed on each layer.
I then made 6 roses from baby socks and green leaves and placed them around the cake.
Very truly yours,
Carol Pelosi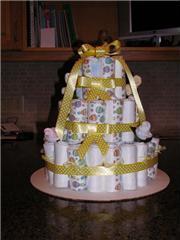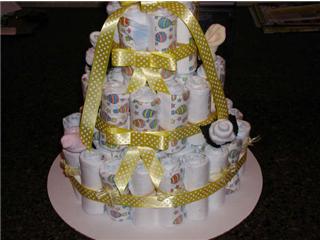 Your diaper cake is adorable, Carol! Thanks so much for sharing!!
Take a look at our Diaper Cake Picture Gallery for some more diaper cake ideas
Want to make your own diaper cake, but don't know where to start? Here are detailed diaper cake instructions that make it easy!