Cute Teddy Bear Diaper Cake
This creative bear diaper cake is cute AND cuddly! This diaper cake combines adorable toys and adornments with classy colors and ribbons.
This creative diaper cake comes to us all the way from New Zealand!! Moira is a kind and helpful friend to all of us in need of diaper cake ideas. By sharing with us her wonderful ideas, she has made this website a better, more thorough resource for everyone. So thank you Moira!! It's a lovely cake!
If you have a diaper cake and/or ideas that you would like to share, submit it here!
Pink Teddy Diaper Cake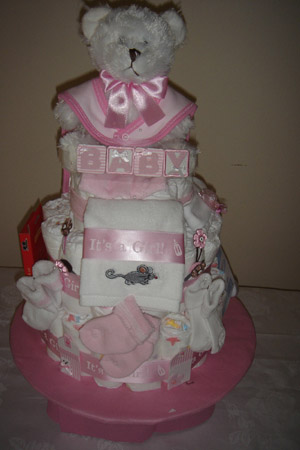 Moira's Comments:
I saw ideas on your website, and wanted to show you what I did.
I live in Christchurch New Zealand,
My friend loved it so much she hasn't dismantled it, she has had the diaper cake for 6months.
Regards
Moira
Christchurch
NewZealand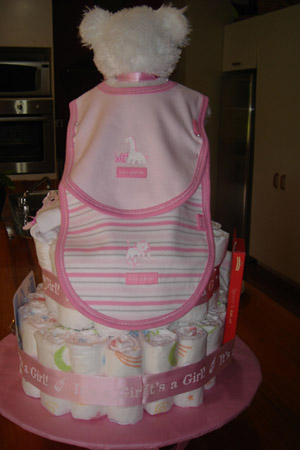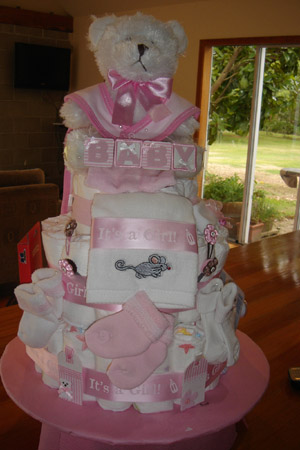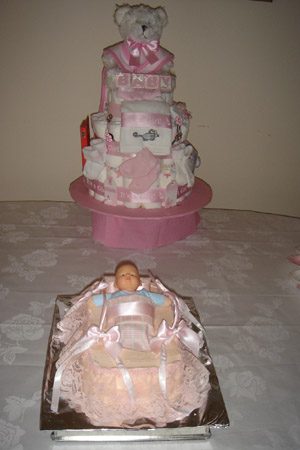 Thanks Moira!! I can see why your friend doesn't want to take it apart!
Return to our cute and colorful Diaper Cake Photo Gallery
After looking at this adorable teddy bear diaper cake, you just might want to learn how to make your own diaper cake - find the instructions right here...