Katherine's Blue and Green Boy Baby Shower
I just threw a baby shower for my best friend, who is having a baby boy. I made her a frog diaper cake- which was a BIG hit and so much fun to make (and not nearly as hard as it looks!).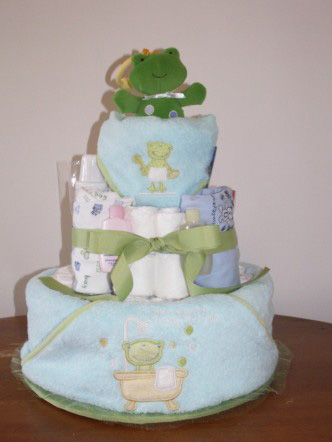 For favors we made little cinnamon buns (the canned ones work great) in large cupcake wrappers and put them in little clear bags with a tag that said "Thank you from the Jackson's little bun in the oven". They were really cute and very tasty! We used bright blue & bright green as the colors which was a great alternative to the usually "baby" colors.
The cake we made to look like the invitations (they had a picture of our mommy-to-be as a baby). To do that I blew up the baby picture to 5x7 and laminated it. I then brought it to Sam's Clubs' bakery with a copy of the invitation and they took care of the rest! It was such a beautiful cake! Cheap, easy and beautiful! (not to mention delicious!)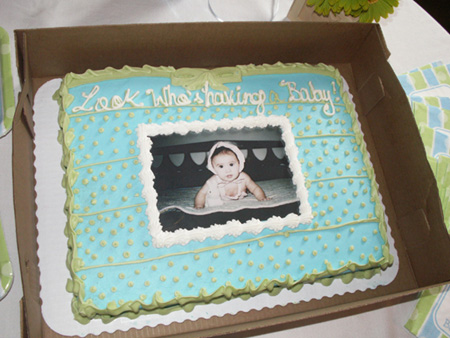 For games we played (of course) the "can't say baby" game- I made necklaces from blue plastic favor diaper pins from the dollar store and green curling ribbon. We played "how big is mommy's tummy" were the guests cut a ribbon to how much they thought would fit around her belly. We also filled a baby bottle with jelly beans and had guests guess how many were in it. Next to that we had baby pictures that guests had brought of themselves and had everyone guess who was who. Those 2 we had as games they played on their own while we got the food out- gave them something to do and kept things moving. The last game was we had my daughter (she's 5) put on a long nightgown which I pinned different baby items to (binky, cabinet locks, rattle,etc) then walk around the guests a few times. When she was gone they had to try and remember what was pinned to her. All great fun and also short so the games didn't drag on forever.
We rented a tent and decorated it with bright blue tulle & green balloons with green & blue curling ribbon hanging down. We also put a bunch of green & blue balloons up in the ceiling of the tent. Inside we used white tablecloths and blue & green trays & bowls. We also had some green & blue placemats that brought in more of the colors to the table. Even the punch matched by using blue punch mixed with sprite & putting scoops of green sherbert in it! It was all really pretty.
For a guest "book" we used a baby towel. Also I had a basket of the thank you card envelopes and asked everyone to address one to themselves so she would be all set to send out her thank you notes!
Thank you so much for having your site - when I was planning the shower, your site was such a HUGE help in getting ideas and inspiration! I'm glad I can now put my 2 cents out there, too!


Katherine, it sounds like such a cute boy baby shower!!! Thanks for sharing!