Preemie Baby Diaper Cake for Twins
This baby diaper cake looks so delicate and sweet - just like a preemie baby! This diaper cake was made for twins, and since many twins are born prematurely the top layer was made from preemie diapers. What a great idea!! My favorite part of this cake is the lacy and frilly ribbons that were used - they really add an elegant touch.
Beky and RustyAnne submitted this adorable cake along with their "recipe" instructions. They are two of our many amazing readers of this website who are helping to make this a better, more creative and more helpful website for the rest of us. I love their ideas for a twins diaper cake - Thanks Beky and RustyAnne!
If you have a picture of diaper cake and/or instructions that you would like to share, submit them here ...
Preemie Diaper Cake for Twins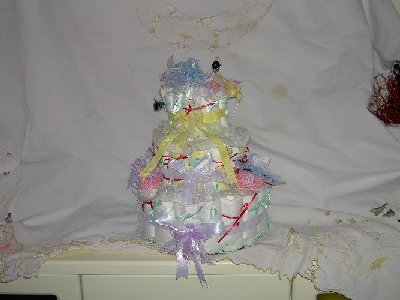 Beky & RustyAnne's "Recipe":
We followed the basic instructions for the cake from your site, but we used premie diapers for the top layer, as twins are usually early. We added everything in pairs, and we covered the exposed diaper tops on the first tier and second tier with fancy ribbon. We added 2 bees to the top, and we used hair bows on the original bows on the ties for each layer, and added the remaining fancy bows to the top . We also used rolled up bibs as napkins, with baby spoons peeking out of the top....lol it came out adorable! Thanks for the instructions!
One tip..when using premie diapers, don't roll them as tight as you would regular newborn diapers, boy are they TINY!!
- Beky and RustyAnne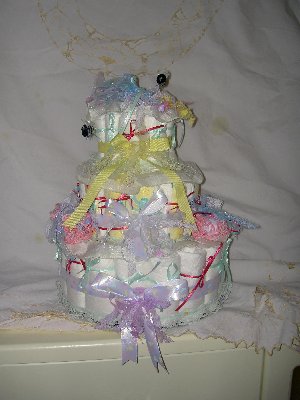 Thanks Beky and RustyAnne! This is such a precious and dainty baby diaper cake!!
Go to our baby diaper cake gallery HERE
Check out these detailed baby diaper cake instructions with pics ...