Baby boy & girl diaper cakes
by Zulaida Torres
(Hackensack, NJ)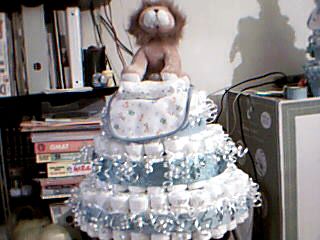 Both of these diaper cakes are so delightful! The cascading ribbon give it such a cute touch! Zulaida shares her detailed description below of how she made the diaper cakes and how the mommy-to-be reacted when she saw them. So fun to read about!


Zulaida is one of our fantastic readers who took some time to attach her pictures and send us a description of her diaper cake creations. And are we ever glad! Our photo gallery is full of awesome diaper cakes from amazing readers like Zulaida.
Thanks a million, Zulaida! Your diaper cakes are wonderful!
We'd love to post YOUR diaper cake as well! Send it to us to share with the world, right here!
Zulaida's Comments
:

I was organizing my sister's baby shower and we had to make 6 centerpieces so I came up with the idea of making diaper cakes. We made one diaper cake for each of the 6 tables and here are pics of 3 of them. We had an animal safari theme since that is the decoration of the baby's room. Each cake had a different animal as the topper and around the cake we added pacifiers, shoes, socks, toys, bibs and some small favor decorations. Inside the cake, we had either a baby bottle (large & small), baby shampoo or baby lotion. To make the six cakes, we used the following:

About 750-800 diapers (to make 6 diaper cakes)
A bag of Large rubber bands
a bag of small rubber bands
Safety pins (to pin the stuffed animal as topper)
Thin ribbon to tie around each diaper
Think ribbon to put around each layer of the cake.
Baby shampoo
Baby lotion
Large baby bottles
Small baby bottles
Bibs
baby socks & shoes
pacifiers
6 Stuffed animals
A glue gun & glue sticks (this is really helpful when putting everything together)

Everyone was stunned when they saw these diaper cakes on the table and they were great because we used them as centerpieces and as a gift for the mom-to-be.
Mommy-to-be was very happy and surprised to see her diaper cakes. The baby was born in May and she didn't have to buy diapers until end of September!!
Join in and write your own page! It's easy to do. How? Simply click here to return to Diaper Cake Invitation.