Lauren's Yellow & Green Frog Diaper Cake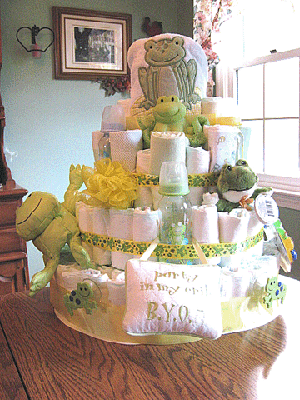 Lauren's Comments:
Nuetral Yellow and Green Frog Baby Cake: I stumbled across the idea of baby diaper cakes while looking for a creative way to support a new mom in the baby process...
I purchased all size 2 diapers, I'm not sure how many I ended up using, because I made a few diaper cakes with a bulk box.
For the center of my diaper cake, I used a bath towel wrap for a baby, this one in particular had a frog design on the part that wrapped around the baby's head... It served as a GREAT center that kept all the layers connected (I have made many diaper cakes at this point and used various things as the center, but the towel worked the best for me).
Because this cake was for a neutral baby shower, I chose frogs as my accessorizing topic, and kept everything in yellows and greens! I garnished the cake with small stuffed animals, bath toys, teething rings, receiving blankets, wash cloths, bottles, and my personal favorite, a Bring your own bottle door hanger!!
Lauren, your Frog Baby Shower Cake is Fabulous! Thank you for sharing your creativity!!