Bath Time Diaper Cake
This adorable Bath Time Diaper Cake has everything a new mommy needs to give her newborn a soothing & sweet bath. What a great diaper cake theme! Rubber duckies are a must, washcloths, shampoo, soap & more. And blue and yellow are the perfect colors!
Rebeckah created this cute diaper cake and wanted to share it with the rest of us! She has "paid it forward" with her fun bath time photos and ideas. Rebeckah and many other wonderful readers are an invaluable part of this website and I want to thank Rebeckah for her contribution and her CUTE diaper cake!!
If you have some baby diaper cake pictures & instructions that you would like to share, submit them here...
Rebeckah's Bath Time/Rubber Duckie Diaper Cake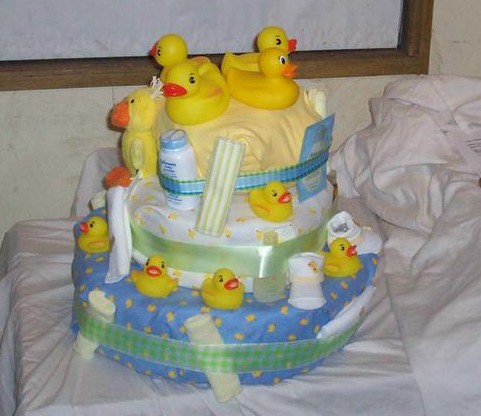 Rebeckah's Comments:
Just wanted to show my Diaper Cake that I did for a friends Bath time/Rubber duckie themed shower. I took the travel sized bath pack by Johnson & Johnson and some duckie receiving blankets and wash cloths a duckie toy,a bath water temp duckie and some rubber duckies from the dollar store. Got some ribbons to match and the clear gift basket for baby shower to cover it.
Rebeckah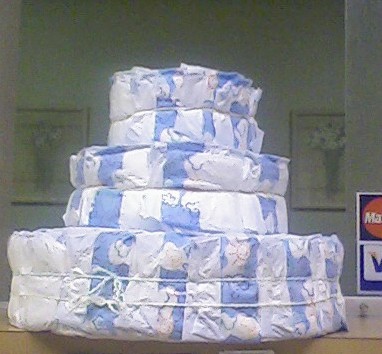 Above is the diaper cake assembly, just before covering each layer with the duckie receiving blankets.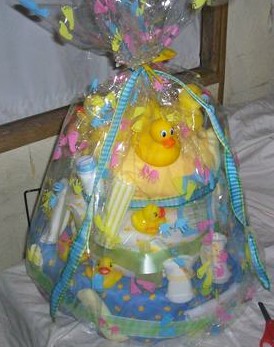 The finished diaper cake!
Rebeckah - Thanks for sharing your darling diaper cake!
If this bath time diaper cake has inspired you, then click here to view the rest of our user-submitted diaper cake photo gallery
Thinking about creating your own diaper cake - but don't know how? Click Here to get step-by-step diaper cake directions with photos!