Hawaiian Baby Diaper Cake
This Hawaiian-themed baby diaper cake turned out beautiful! It was submitted by Kris and she included her detailed diaper cake recipe below, with the corresponding cost of each ingredient. Thank you so much, Kris, for submitting your photos and instructions - they are so helpful!
Kris is one of the many great visitors of this website who help "pay it forward" by submitting her cute baby shower ideas to help the rest of us. People like her are what makes this the best baby shower website on the internet! If you have baby diaper cake pictures & instructions that you want to share, submit them here ...
Kris's Baby Shower Diaper Cake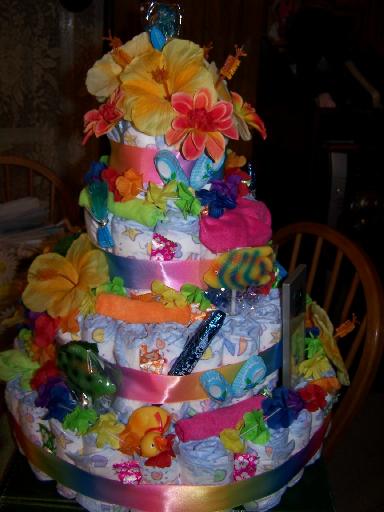 The baby shower we are giving is a large co-ed shower.The mom to be didnt want everything "babyish" so we went with a hawaiian themed baby shower.

My diaper cake ingredients:

1 pkg size 1 diapers- 82 count = $12.00
1 pkg size 2 diapers- 76 count = $ 13.00
1 1/2 inch satin rainbow ribbon (9 yards)= $12.00
1 bottle of pedialyte in center= $4.00
1 4 oz baby bottle for top 2 tiers= $1.00
Batch of fake hibiscus flowers = on sale $2.00
3 small orange flowers= $1.00
5 Lei's(local party store)= $6.00
Hawaiian print candies= $5.50
Assorted it's a boy chocolates= $5.00
Baby picture frame= $2.00
8 baby wash cloths= $4.00
Tropical fish Lollipops=$2.00
Rubber ducks and fish=$3.00
Large bag rubber bands assorted sixes=$0.99
Double sided tape(to secure everything)=$ 3.50
1 baby outfit sz 6 months(hidden inside) $10.00

I bought everything first over a couple of days then started assembling. Total time for assembly was about 4 hours start to finish.

My base isn't shown but it was a large piece of cardboard decorated to look like a beach.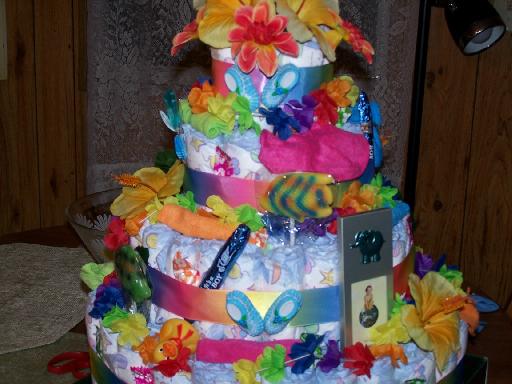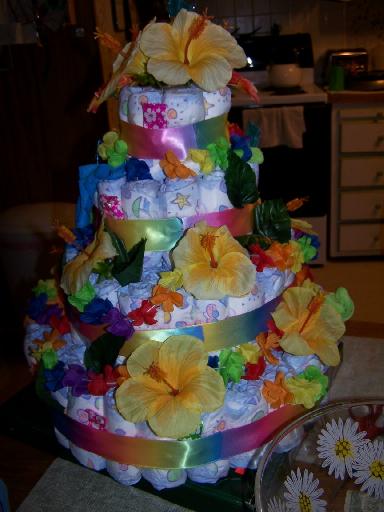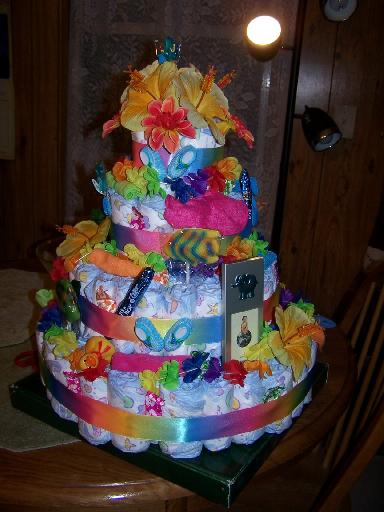 Thanks Again Kris! It is a beautiful Baby Diaper Cake!!
Here are some
more cute baby diaper cakes
that readers have submitted...
Here are instructions on how to make your own diaper cake