Safari Diaper Cake
If you are looking for some inspiration for a Safari Diaper Cake, you will be elated to look at Shae's adorable ideas below. Everything from lions to monkeys to baby items, this creative cake will give you a healthy dose of creativity to make your own!
Shae had never made a diaper cake before this one, but you would never know because her cake is so cute! She has taken the time to submit her pictures and write up her 'recipe' because she is 'paying it forward' and making this website a more valuable source of ideas for all of us. Thanks so much, Shae!!
If you have a diaper cake and/or ideas that you would like to share, submit it here!
Safari Diaper Cake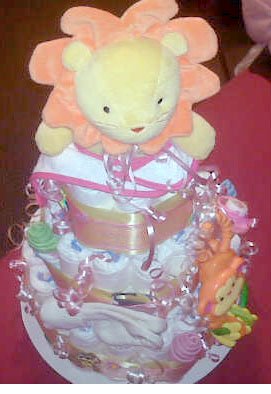 Shae's Comments:
I was so excited to make a diaper-cake with all of my close friends having babies soon!!!!!!!!I found most/all of what I needed at Wal-mart or Dollar Tree. THIS IS MY FIRST DIAPER CAKE FOR MY FRIEND (that has the same name as me) WHO IS EXPECTING HER FIRST BORN! I used the candlestick method to roll the diapers and secured them with rubber bands. Every layer has rubber bands holding them together and I used craft glue to affix/close the ribbons. I included the following items either outside or inside of the cake:-Stuffed Lion that plays Twinkle Twinkle Little Star as the topper-1 travel size J&J Baby Lotion-1 travel size J&J Baby Powder-1 travel size J&J Baby Shampoo-1 pacifier-4 washcloths-2 pair of Old Navy socks sz. 0-6mos-40-50 newborn size diapers-1 8 oz. bottle filled with purple pink & red jellybeans-1 monkey rattle/teether
I purchased the cake disc, multi-pack of dowels, the different spools of ribbons, and 3-D animal stickers at Wal-Mart. It didn't take me that long because I did it in stages. I rolled allll of my diapers first then I constructed the tiers(the bottom had three circles of diapers, the 2nd had 2, and the top had 1) then I stacked and decorated them. The only thing different is I may decorate them individually and stack them as I finish decorating next time. It was very enjoyable and the mom-to-be loved it, as did the whole shower party!!! ;]
~Shae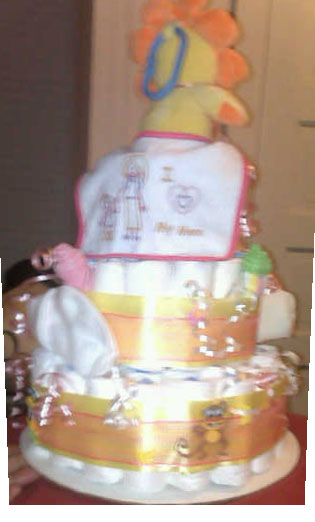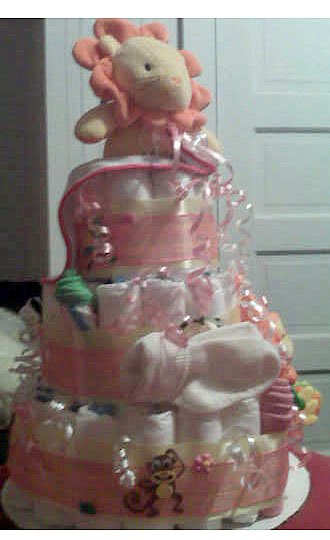 Thanks Shae!! It's obvious why your cake was such a big hit! So Cute!
Return to our cute and colorful Diaper Cake Photo Gallery
After looking at this adorable safari diaper cake, you just might enjoy making your own diaper cake - find the instructions right here...