John Deere Diaper Cake
"John Deere Green - Nothing's better." And we have a picture below to prove it! This John Deere Diaper Cake is a bright, striking cake to behold and I'm sure it was a huge hit at the baby shower that Brandy went to.
Brandy made this beauty and then took the time and thought to share it with all of us! What a wonderful thing to do! is another one of our truly helpful readers that want to help others and inspire us with their amazing ideas. Thank you, thank you, Brandy!
If you have some baby diaper cake pictures & instructions that you would like to share, submit them here
...
Brandy's John Deere Diaper Cake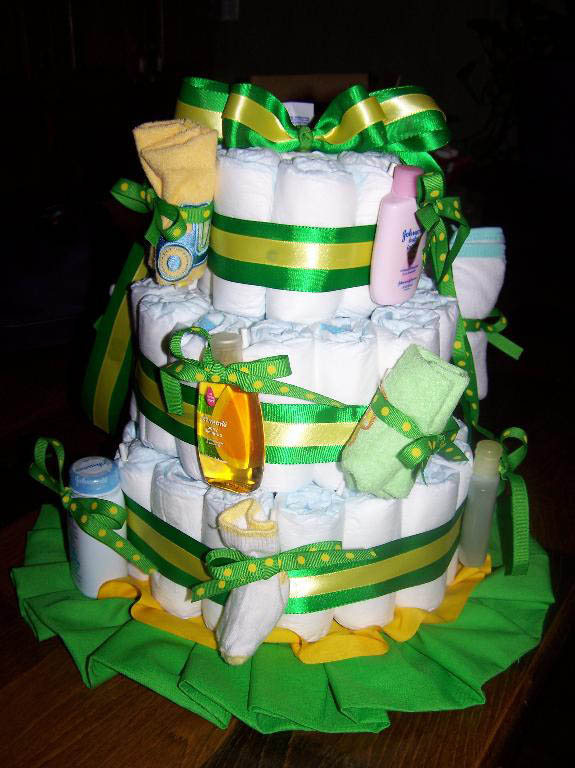 Brandy's Comments:
I made this "cake" for a girl's baby shower. She loved John deere. I had a hard time finding things (small) that would fit on there, so I just went with the colors. I rolled my diapers individually and secured with a tiny rubber band. I held a few together and put a large rubber around them. I kept adding and shaping till that tier was large enough. Then I would start on the next one. When all tiers were complete I inserted a wooden dowel in the center to secure them together. Then came the fun part. I lined each center with ribbon and then another skinnier kind. Then I added the favors. I just took a clear rubber band and tied a bow and ribbon around the neck of the bottle. Then i put the other end of the band and twisted it several times around a lollipop stick. You can get these at your local craft store. and i inserted inbetween the diapers and ribbon. No glue needed. All the diapers and favors are use-able. then I added a bow and a couple of bibs and made a ruffled skirt for the bottom and voila....a John deere colored baby diaper cake. The items on it are useable as well as the diapers....but would be sooo much cuter in the baby's room. I always make that a point when making or giving one at a shower. I still have mine from my baby shower 8 years ago!!
Brandy, just a beautiful cake! Thank you for sharing it with us!!
If you liked this John Deere Diaper Cake then have a looksy at our Picture Gallery for some more diaper cake ideas & themes
Want to make your own diaper cake, but don't know where to start - Take Step #1, #2 and #3 and you'll have a cuter-than-cute diaper cake quicker than you thought!