Yellow n' Blue Diaper Cake
This fabulous yellow and blue diaper cake is meticulously made and turned out so lovely to look at! The theme is "It's a Boy" and you can see for yourself that it is full of ideas to help you make your own diaper cake. Each ribbon is perfectly tied and I love the flowers around the base of the diaper cake.
Robin submitted her gorgeous diaper cake and her "recipe" she used to make it. Our amazing readers share their ideas in our photo gallery to help the rest of us get some wonderful ideas for our own diaper cakes. It is an incredible resource for do it yourself diaper cake ideas and it's all thanks to readers like Robin. Thanks, Robin, for sharing your delightful diaper cake!"
If you have a picture of diaper baby cake and/or instructions that you
would like to share, submit them here...
Robin's It's a Boy Yellow and Blue Diaper Cake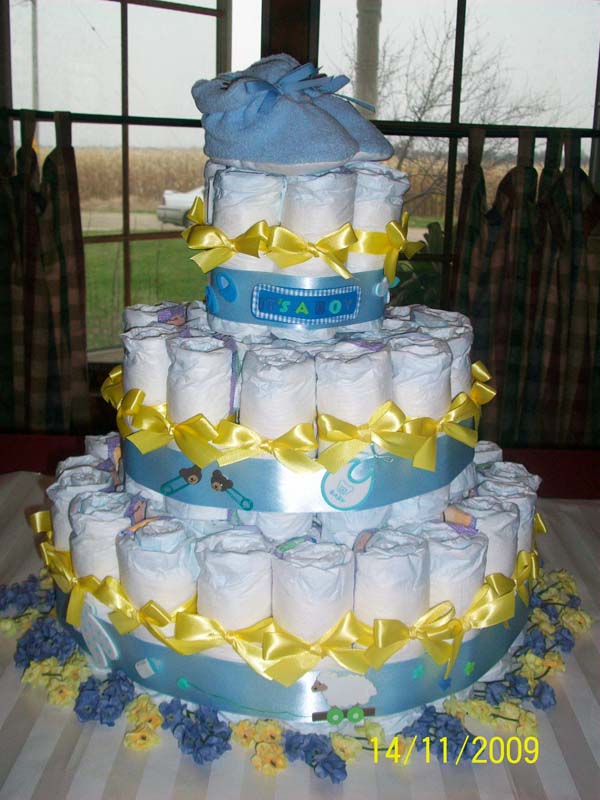 Robin's Comments:
I made this cake for my daughters baby shower, shes having a boy!!!! I started with using the directions on this site, used a bottle of pedialite in the center of the first roll to give it some weight. then just used ribbon, and scrap booking stickers to decorate it, and finished it with matching baby's breath and a cute pair of booties!

Robin
Washburn, IL

Thanks Robin! Your daughter is sure to absolutely love your amazing diaper cake!!
If you liked this cute yellow and blue diaper cake, here are some more cute baby diaper cakes that our wonderful readers have submitted...
Looking to make your own diaper cake? Just use these easy-to-follow diaper cake directions & photos.