Pretty & Pink Baby
by Lehna
(Georgia)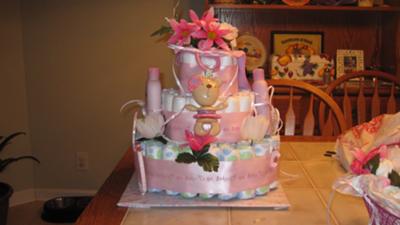 Pretty & Pink Diaper Cake
What a beautiful combination of a diaper cake and a onesie flower bouquet! Both are gorgeous additions for a baby shower. The diaper cake is adorned with just the right touches of baby items and flower embellishments, and the onesie flower bouquet is so unique! What a great idea. Lehna has submitted her creative ideas to "pay it forward" to all the rest of us and provide some fresh diaper cake & bouquet ideas for inspiration.
Read her instructions and details below! Thanks for such cute & colorful ideas, Lehna!

Lehna's Comments:
I used two different types and sizes of diapers for my cake. I used only pink and purple add ons such as purple bedtime bath baby wash, pink baby lotion, a pink and purple toy, and pink baby hair accessories. I didn't have a serving tray on hand that I wished to give away, so I cut a square out of a cardboard box and covered it with baby themed tissue paper.
I also made a onesie flower bouquet using white onesies and hot pink washcloths. All together I spent a total of about $60 on the cake and bouquet. Some supplies such as flowers and "It's a girl" curling ribbon were used on both the cake and bouquet. Both gifts probably took a combined total of 2 hours to create. I shared the cost with a friend which makes these some extremely cute and fairly inexpensive baby shower gifts! The Mom to be is a good friend of mine. For a future baby shower of someone that I'm not as close to, I would make the onesie bouquet but not the cake. Although I think the cake is impressive and adorable, it is more expensive and time consuming to make.