Teddy Bear Diaper Cake Ideas
If you are looking for some Teddy Bear Diaper Cake Ideas, check out this AMAZINGLY beautiful teddy bear diaper cake. It was submitted by Joey & Kirei from the Phillipines, and I just have to say that it is one of the most gorgeous diaper cakes I have ever seen! The colors go so well together, I love the spread with balloons & favors and it is a square cake - very unique!
Joey and Kirei have "paid it forward" by sharing their cute diaper cake for the rest of us to enjoy. Their Teddy Bear diaper cake ideas continue to make this website a better and more creative resource for the rest of us - a community where everyone can come and get cute ideas to use in their diaper cakes. SO thank you Joey and Kirei for sharing!!
If you have some baby diaper cake pictures & instructions that you would like to share, submit them here ...
Joey and Kirei's Teddy Bear Diaper Cake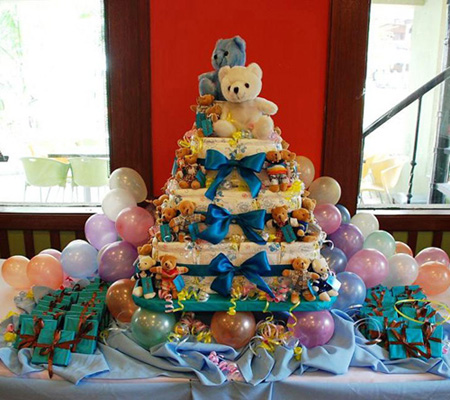 Joey and Kirei's Comments:
Diaper cakes in the Philippines are not yet that popular. So we thought of using this not for a baby shower but for the baptism party when our sons (2 of them) were baptised recently.
Our guests were in awe when they saw the very cute diaper cake we personally made for the baptism party! It had a TEDDY BEAR motif with little Teddies scattered all around the cake which served as christening giveaways at the same time
We had fun doing it after having been inspired by this website, http://www.plan-the-perfect-baby-shower.com/
We hope you like our own rendering of a Diaper Cake!
Joey & Kirei Manalad
Philippines
Joey and Kirei, your Teddy Bear Diaper Cake is truly a work of art! Thank you for sharing it with us!!
Go to our Diaper Cake Picture Gallery for some more Teddy Bear diaper cake ideas, as well as some other diaper cake themes

Want to make your own diaper cake, but don't know where to start - Here are the diaper cake directions that Joey and Kirei used for their Teddy Bear Diaper Cake above...