Lilly's Diaper Cake
by Yvonne
(Renton, WA)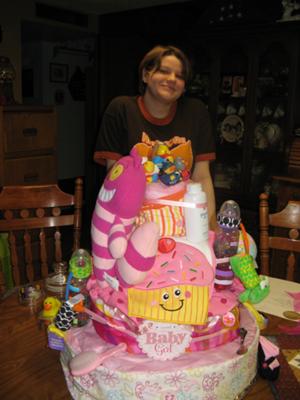 BabyMama and finished Diaper Cake
Such a happy diaper cake! A stuffed Cheshire Cat, a lot of baby supplies and an excited grandmother were the catalysts for this fun diaper cake. Yvonne, the grandmother-to-be, gathered the expectant mother and other friends and family together to share in the creation of this cake, and to prepare for the baby shower. Sounds like they had a blast!

I love Yvonne's story below. She shares her photos, her ideas and her spunk. Just what we like to see in our fantastic diaper cake gallery. Yvonne, thanks SO MUCH for sharing your adorable diaper cake. BabyMama looks so happy!

To submit your diaper cake tips and photos, go right here!

In Yvonne's Own Words:
Here are photos of the diaper cake for my newest granddaughter, due Jan. 2011.

I gathered supplies: a big box of size newborn diapers, rattles, baby washcloths, bibs, bottles, pacifiers, toys, baby lotion (the Anti-Monkey butt paste was a big hit!), booties and more.

The BabyMama, her mother, two teenage sisters and a friend all came over to help plan the shower and I put them all to work! BabyMama was entirely in charge of the diaper cake, while the rest of us worked on other preparations.

BabyMama had a lot of fun making the cake and it turned out very cute. Each diaper was rolled up, then secured with a clear "Goody" brand hair tie. The layers were tied together with yarn, then covered in a receiving blanket. Two blankets for the bottom layer, secured with diaper pins. The top "icing" on each layer was pink tissue paper. The very top has six Superhero rubber duckies on it (duckies are from Oriental Trading Company.)

I love the grin on the Cheshire Cat! Kind of like the one I'm wearing, thinking of a new granddaughter!!!