Linda's Blue Teddy Diaper Cake
Linda's Comments:
For my base i used a round piece of polystyrene,I place a large bottle of baby talcum powder in the middle. I rolled each diaper securing with an elastic band,placing on the base around the talc to form the bottom layer. I then put a large elastic band round the whole layer to secure.
For the second layer repeat as above. For the top layer, i placed a baby feeding bottle in the centre and put diapers around it as done in the other layers. The lid of the baby feeding bottle poked out of the top when finished and i placed the teddy on top.
I tied blue ribbon all around, covering the elastic bands, then decorated it with useful items, such a cotton buds, nail scissors, rattle, teether, pacifier, baby socks, and baby shoes.
I hope you like it!! I made this diaper cake for my grandson, due on the 15th May 2008
from Linda
Worthing Sussex,England UK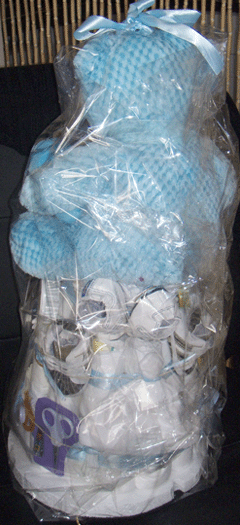 Linda - Thanks for sharing your teddy bear diaper cake with us!