Jungle Babies Diaper Cake
by Lauren
(Massachusetts)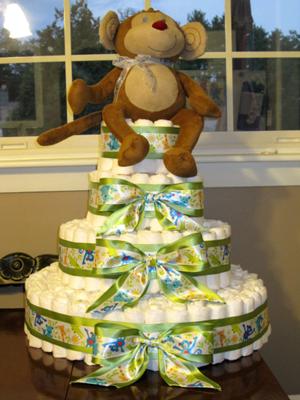 This is such a classy looking diaper cake! The ribbon really makes it. It is wide, silky ribbon with a nice shade of green and a cute jungle-animal pattern. The bows are nice, big and beautifully done. And the Monkey topper gives it the perfect 'baby' touch.


Lauren has 'paid it forward' by submitting her pretty diaper cake to pass on the creative flame of diaper cake inspiration to the rest of us. I love all of our readers! It is readers like Lauren who make this site so helpful, so useful and so focused on inspiring each reader who visits us.
Thanks so much Lauren! Your diaper cake is awesome!
If you would like to help 'pay it forward' just follow the link below to share your diaper cake ideas!
Lauren's Comments:

This diaper cake was for my cousin's baby boy. The nursery theme was "Jungle Babies"... so with that information, I took with the theme and created this cake.

4 Tier Cake Included:

168 Diapers

1 really soft blanket ("Jungle Baby" themed of course)

10 receiving blankets

4 pacifiers

1 pacifier clip

1 Large Baby powder

1 Large Tube of Butt Paste

3 long-sleeved onsies

an emergency diaper bag kit (disposable thermometer, baby powder, baby wipes, baby band-aids, antibiotic cream)

Jungle Baby Plush Toy on top