Purple Diaper Cake
Truly a delight to look at, this Purple Diaper Cake is a striking baby shower centerpiece and a sweet gift for an expectant mommy. It is 3 tiers of purple perfection! The flowers dress it up so much and the ribbon matches perfectly! If I walked into a room with this cake in it, that is the very first thing I would notice and what a treat to look at!
Margie sent us this pretty purple diaper cake from Washington State and are we ever glad she did! Margie is one of our growing number of wonderful readers who contribute their pictures to share with all of the rest of us to make this website a more valuable resource, one cake at a time! Thanks so much Margie!! It is truly a lovely cake!
If you have a diaper cake and/or ideas that you would like to share, submit it here!
Purple Diaper Cake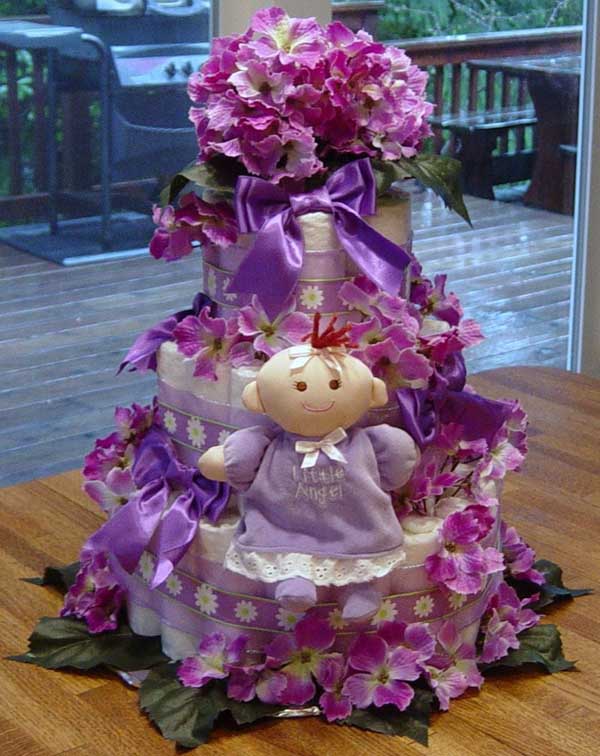 Margie's Comments:
Diaper Cake in Purple for a Baby Girl
This is the very first diaper cake I have ever made and it is for my granddaughter, Julia, who will be born in July of 2009. My son and daughter in law prefer purple over pink so I went with an all purple theme. I used about 65 Pampers size 2, 2 baby bottles, wide ribbon and narrower riboon, silk flowers and bows and lots of rubber bands. I put the bottle (after inverting the nipple and ring and removing the cap) in the center, put a rubber band around it and then inserted the rolled diapers around it. To add additional layers, I added another rubber band. The bottom tier has 3 layers, the middle, two and the top, one. Once the second tier was put in place I added the second baby bottle (stacked on top of the first one) which I left open. I used the open bottle as a vase for the top flowers. Everything except the doll is either secured with double stick tape or just inserted into the openings. I took a couple of stitches to secure the doll to the ribbon. The doll is infant safe and is called My first Doll which I purchased at Walmart. The cake should be fairly easy for my son and daughter in law to take apart and use. This was a lot of fun to make and a lot easier than it looks so give it a try!
From Margie in Belfair, WA
Thanks Margie!! And thanks for the advice! I know Julia must have absolutely loved it!!
Return to our fabulous Diaper Cake Photo Gallery
After looking at this purple diaper cake, you just might want to learn how to make your own - find the instructions right here!