An Amazing Girl Diaper Cake
The first words that come to mind when I see this Girl Diaper Cake are: Sugar and Spice and Everything Nice!! This diaper cake is LOADED with fun and essential baby girl items, and it must have made for an amazing baby shower centerpiece.
This beautiful cake picture and recipe were artfully created and graciously submitted by Jennifer from Kathleen, GA. She has included her picture AND some detailed instructions including the time and cost involved in her diaper cake. Jennifer's girl diaper cake is an inspiration to us all and a wonderful example of how readers of this website are "paying it forward" to others who need some cute diaper cake ideas. THANK YOU JENNIFER!!!
If you have a picture of diaper baby cake and/or instructions that you
would like to share, submit them here...
Girl Diaper Cake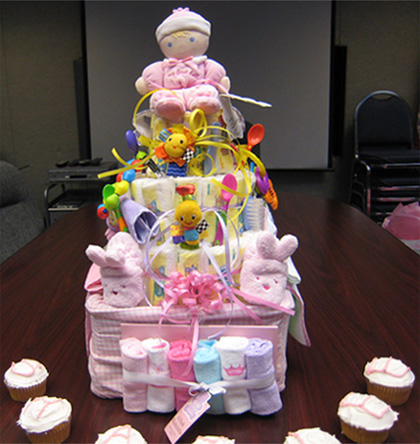 Jennifer's Comments:
I just love the idea of a centerpiece being reusable. This diaper cake was made for a baby-shower thrown at work. It was a hit! Someone at the shower was giving the mother-to-be a shower the next day & used it as her centerpiece!
Ingredients:
1 wicker basket with cloth lining
120 Sesame Street Newborn Swaddlers
1 pair of pink slippers
7 bibs
5 spoons
1 bottle brush
1 baby loofa
1 brush
1 comb
1 pr of fingernail clippers
1 soft baby's first doll
1 hard keepsake ornament
1 travel pack of wipes (came free on the diaper pk)
2 wrist rattles
2 teether rings/toys
6 washcloths
ribbon & yarn

Approximate cost - $80
Assembly time - About 3 hrs
Most items were bought from Wal-Mart. Michael's had a sale on their wicker baskets. I used the basket liner on the outside to cover the wicker & the extra diapers which provided the base inside the basket. If you don't have extras then you could just turn the basket over & use the bottom as the base. I rolled each diaper & tied it snug with a piece of yarn. The ribbon was used to hold the tiers together. I only used 2 pieces of tape & that was to hold the slippers in place. Everything was held on by hanging stuff off of the spoons or by the ribbon. The doll toppers were tied around the bottle that stuck out slightly from the top. I have trouble getting ribbon to curl or to tie in pretty bows so I used the wrist rattles to deal with that shorcoming. The assembly time could have gone quicker but most of that time was spent figuring out how to approach it. I had not stumbled across your wonderful site beforehand & had only seen sites that wanted to sell such a cake for a lot more money. Now that I've been here, I think I'll try the baby sock bouquet for when she's at the hospital! Thanks for all of the fantastic ideas! :)
Thanks Jennifer!! I wish I could have seen the look on the guests' faces when they saw this cake!
Continue browsing our diaper cake gallery HERE ...
If you liked this girl diaper cake idea and would like to make your own, here are step-by-step diaper cake instructions ...