Tea Party Diaper Cake
This is the first Tea Party Diaper Cake that has ever been submitted to this website - what a cute addition!
It is so cute that the baby is holding the teapot! Judy submitted this darling diaper cake, all loaded up with essentials for the new mommy-to-be. She is making this website a better resource one diaper cake at a time! By sharing her adorable ideas, she is helping countless others who visit this site to get ideas and get excited about making their own diaper cakes! So Thank you Jody for sharing your fabulous cake!
If you have a diaper cake and/or ideas that you would like to share, submit it here!
Judy's Tea Party Diaper Cake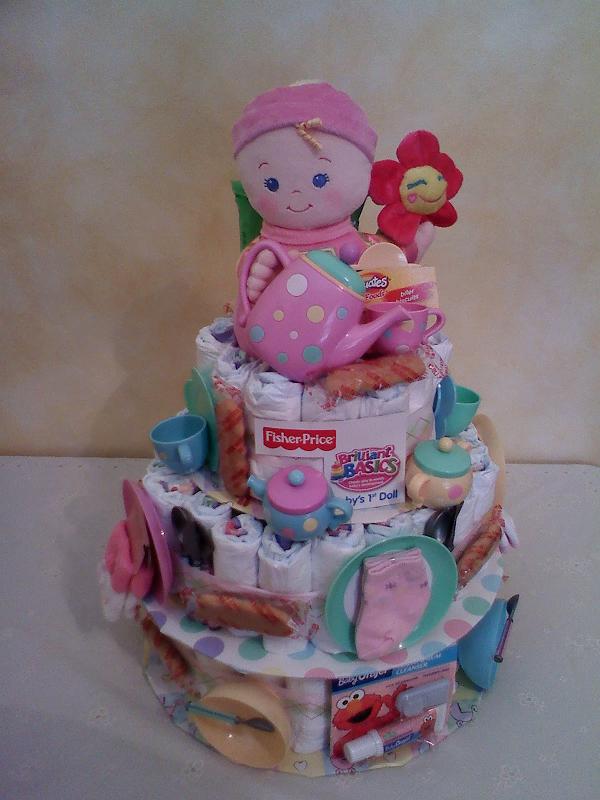 Judy's Comments:
Hi my name is Judy, from Hudson, FL
Here are (2) cakes I made (first time I've done this):
I used 100 Stage 2 Luvs diapers on each cake. First I rolled each diaper andsecured with a clear rubber band. I then covered (2) 14inch and (1)10inchcardboard cake rounds with baby wrapping paper for each cake. I placed (40)diapers on each 14inch round and (20) on the 10inch round and secured them with2inch ribbon (I used hot glue to secure ribbon ends together) Then useddouble-sided tape to secure each layer from sliding around. On the "Bunny"cake I placed baby toiletries, rattle, felt flower and Beatrix Potter minibooks secured with hot glue to ribbon (not diapers) and topped off with stuffedBunny. On the "Tea Time" cake I used a play tea set securing some items withdouble-sided tape and some with hot glue. I then included "teething biscuits",baby tooth/gum care, wipes, felt flower and topped off with "Baby's 1st Doll".
My daughter is expecting my first grandchild (a girl) in April. We are havingher shower March 22nd and the theme is pink & green. I will be making (2) morecakes with different items in the pink/green theme and I can't wait to usethese as centerpieces on the tables! P.S. - I also sent a copy of the thank youtags I made using a business card template to tie onto the favors. (pink andgreen candles in glass holder)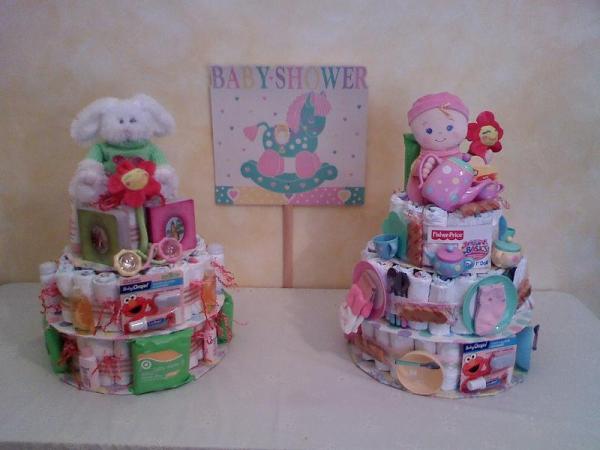 Judy, your cake is wonderful!! Thank you for sharing!
Return to our huge Diaper Cake Centerpiece Photo Gallery
If this tea party diaper cake inspired, then you just might want to learn how to make your own diaper cake - find the easy-to-follow instructions right here!