Butterfly Diaper Cake
This Butterfly Diaper Cake is all girl and an adorable addition for a baby shower! It is a 4 tier work of art submitted by Shannon, one of our wonderful readers. She also included some very helpful, detailed instructions as well as the total cost of her cake.
Shannon is one of our very thoughtful and creative community of readers who have submitted their diaper cake ideas and pictures to help the rest of us. This website is the best resource of diaper cake ideas and pictures on the web, and it is made even more so by Shannon's diaper cake. So Thanks Shannon!
If you have a diaper cake and/or ideas that you would like to share, submit it here!
Butterfly Diaper Cake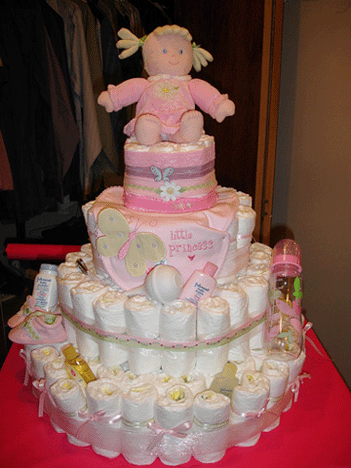 Shannon's Comments:
Thank you so much for your great instructions on making a Diaper cake. I made this for my bf who is due with her first baby, a girl. The nursery is done in Butterflies so I gave the same theme to her cake. There are about 165 Pampers Swaddler's size 1 diapers, 2 bibs, various J&J products, a 'my first doll' and the entire top tier is wrapped in newborn headbands. I think total with the cost of ribbon and "ingredients" was about $65.
I did want a larger cake, I decided with a 4 tier. So I used a bottle of baby wash as the 'core' but then taped a cut wrapping paper tube to the bottle to give the cake enough support for the height. This helped alot because it is now very sturdy.
Thanks again! I can't wait for her shower.
-Shannon, Wichita KS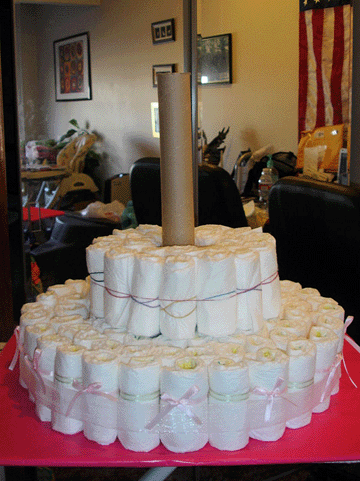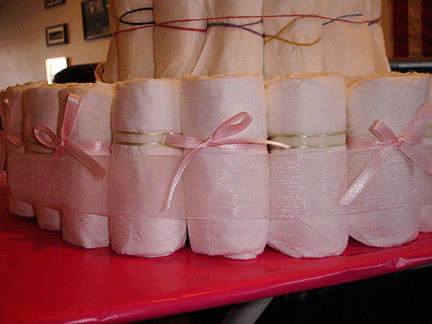 Thanks Shannon!! Your friend is in for a wonderful surprise!
Return to our huge Diaper Cake Photo Gallery
After looking at this butterfly diaper cake, you just might want to learn how to make your own diaper cake - find the instructions right here !