Miami Dolphins Diaper Cake
by Kelli
(Miami, FL)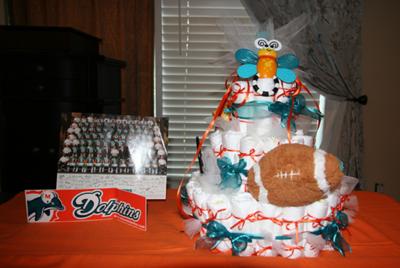 Miami Dolphins Diaper Cake
Such a good looking diaper cake! Love the dolphins theme, and the detail on this cake is lovely - each diaper is tied with an individual bow and the three kinds of ribbon give it such a classy touch!


Kelli is one of our fabulous readers who wanted to share her diaper cake with us to continue the spirit of this diaper cake gallery - a place to get and give diaper cake ideas, to gain inspiration and then turn around and inspire others with your creativity. I love our readers!
Kelli, thanks for sharing your pretty diaper cake and your helpful instructions!
In Kelli's own words:

This was my first attempt at making a diaper cake. I used 72 Pampers size 1. I did it the hard way, hand tying each diaper with an orange ribbon. I chose to roll them with the open end on the inside so that the Sesame Street liner did not show. It was very difficult finding the right shade of teal for the wide ribbon. You'd think that would be a snap in Miami, but none of the craft stores carried "Dolphin" teal. I finally found it at Walmart. The bottom layer is completely diapers, I then formed the second layer around a standard plastic baby bottle. I added the third layer and then inserted three dowels to anchor the layers together. I trimmed the cake with a fuzzy football, and topped it beautiful stained glass Dolphins nightlight, added a few bath toys, a teething rattle and, of course, baby's first Dolphins cap. It was a big hit, especially with the expectant dad who is a huge "fin"atic. Next time, I'll use rubberbands and just used the tied ribbons on bottom outside row, it would have saved me a lot of time! I enjoyed making it and plan to start the next one for a friend's daughter this weekend. Wish I'd seen this site, first. Lots of great ideas. I'm starting a butterfly theme one this weekend and love the one posted on this site, which I plan on copying ;)
Join in and write your own page! It's easy to do. How? Simply click here to return to Diaper Cake Invitation.