"Jett Blue"
Darling Denim Diaper Cake
This denim diaper cake is so full...full of chic! I luh, love the new Huggies limited edition denim blue diapers (Click here to see Huggies' clever denim diaper commercial.) And what a better way to showcase how cute these diaper are than to use them in a denim baby shower cake!
And we have to leave it to the Lovely and Talented Lynn to create another diaper cake masterpiece. She created this delightful Jett Blue diaper cake in true "Lynn" fashion with bright colors, adorable adornments and classy pillars. This makes her 4th diaper cake submission and each one is a work of art. See her other amazing cakes here (origami diaper cake, monkey cake, safari cake). Lynn is the epitome of our generous and thoughtful readers who care enough about others to submit their ideas for the benefit of the rest of us, to inspire and motivate us to create something special. We can't thank you enough Lynn! What a fun, novel idea to use the denim diapers in this fabulous diaper cake!
If you have some baby diaper cake pictures & instructions that you would like to share, submit them here...
Lynn's Jett Blue Diaper Cake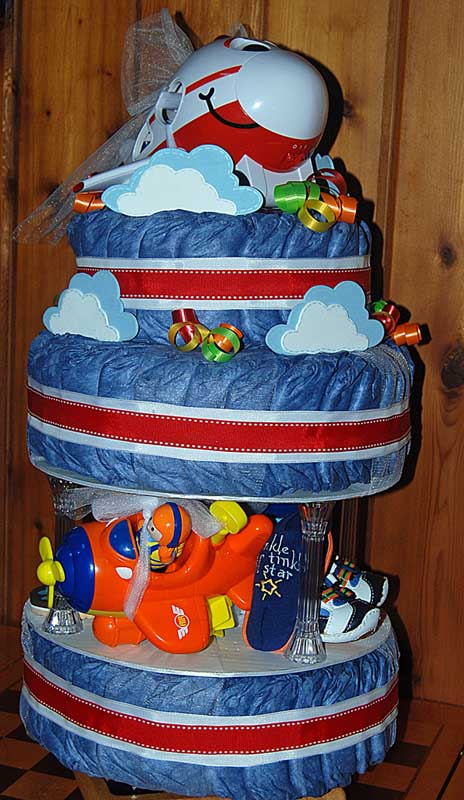 Lynn's Comments:
New Diaper Cake: Jett Blue
I couldn't wait to get my hands on the Limited Edition Huggies Little Movers Disposable Diapers that are in DENIM. Some dear friends out of state are having a boy - his name is going to be Jett. That was all it took to get me started.
This cake contains: Baby Blanket ( rolled into the first layer ), 3 Long Sleeve sleepers ( rolled into the second layer ), 3 Long sleeve onesies ( rolled into the third layer ), Colts snuggle ball,2 pair of baby shoes, A 3 in 1 Roll & Float Seaplane ( in between layers 1 & 2 ) A Jumbo the Jet sitting proudly on the top. This cake contains 70 size 3 diapers. The diapers are hard to find here in the Tampa area - if you are interested in trying them and haven't found them in a store - purchase online.....that's what I had to do.
The Lovely & Talented............
Lynn Lyle
Lynn, simply adorable!! Such a fun idea!
If you like Lynn's denim diaper cake, take a look at all of our diaper cakes in our huge gallery
If you are not sure where to begin making a diaper cake, then follow these simple diaper cake instructions to give you a jump start!