Pretty N Pink Diaper Cake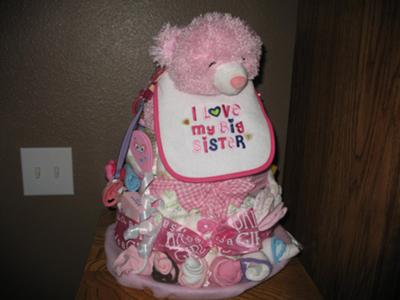 This diaper cake is perfect for a sweet baby girl! It was made with love from a sister and daughter of the expectant mother. And it turned out so cute! And we are so grateful that we are able to see it here to inspire us with some wonderful ideas. We have the best readers on the internet - readers who share their time, talent, tips, and creativity with all of us. Thanks so much for sharing!!

Comments from this submitter:
This diaper cake was for my sister. It is called pretty n pink - that was the theme of the shower. I started with 50-60 diapers, depends on what you use for your center. I used a baby bottle bank that I found at party city. Roll each diaper individually, secure with rubber band. I made a three tier cake. The bottom tier is three layers. Use as many diapers as needed for inner layer, secure the layer with large rubber band. Make another layer around the small layer, repeat steps. Make last layer, repeat steps the same as other layers. Do the second tier the same way only using two layers, repeat steps as the first layer. The last tier is only one layer, repeat steps. You would need a cake platter to sit the cake on. I used a receiving blanket to put over the platter and tucked underneath and taped. I then placed cake on top of platter. To hide rubber bands I bought wide ribbon to tie around each tier, Use things that are related to your theme. Put anywhere on the cake, between the diapers, the ribbons, also you can tie items with small ribbons to cake. I also used a stuff animal to place on top of cake. Enjoy


PS, My sister was so surprised that she thought we purchased the cake, but I helped her daughter make it to give to her mom as the gift from her.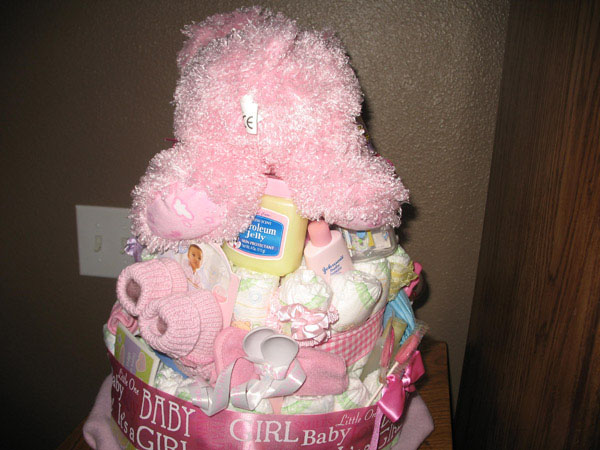 Join in and write your own page! It's easy to do. How? Simply click here to return to Diaper Cake Invitation.