cute blue diaper cake
by Arra Mae O. Salama
(Las Piñas City, Philippines)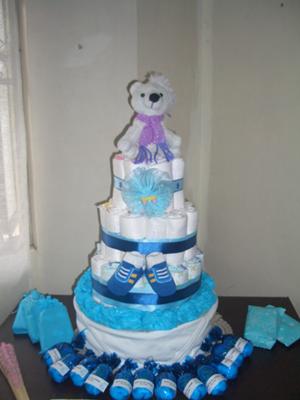 This is such a special, heart-warming diaper cake and baby shower and we are so lucky to feature on this website! I love the colors of the ribbon and the favors. And the diaper cake topper is so sweet. Arra Mae is from the Philippines and has shared her delightful ideas with the rest of us!

No matter where you may be in the world, this website is a resource for everyone to come and get & give ideas of how to celebrate life, love and family. Arra Mae has shared her special ideas with us and for that: We want to thank you so much, Arra Mae! And congratulations on your upcoming baby boy!!

Arra Mae's comments:
Here in the Philippines, Baby shower is not that popular as it is in the Western Countries. However, since my husband and I are having our first baby boy, we wanted to celebrate the joy with our friends and loved ones. We decided to throw a simple, yet, memorable baby shower. And we did not fail to make our guest enjoy the party. Thanks to this website which helped me to plan my Perfect Baby Shower!!! My two closest friends helped me out to make this wonderful diaper cake!! It was really the center of attraction during the party!!! Even the simple souvenirs that we had are pretty awesome and cute. We can say that we may had the cheapest baby shower, yet this was the greatest and most memorable event here since our guests can't get enough of this wonderful idea.
Join in and write your own page! It's easy to do. How? Simply click here to return to Diaper Cake Invitation.