Twins Baby Shower Ideas
It's twice as nice with a Twins Baby Shower!

Luckily, though, planning a Baby Shower for Twins isn't twice the work - not with the cute and creative twins party ideas below! All your planning has been done for you, everything from twins invitations, games, favors, decorations and food.
Having twins is such a blessing for a mom-to-be, and you are going to help everyone have double the fun at this party.
Let's get going!!
_______________________________
Twins Baby Shower Invitations
Depending on your theme, you could use a cute verse to let your guests know that this is a Twins theme baby shower:
Two Peas in a Pod
Double Trouble
2 Wonderful for Words
Twice Blessed
Two of a Kind
Twice as Nice
They Came Two by Two (Noah's Ark)

To make your own twins shower invitations:
At a craft or scrapbook store, buy light colored cardstock - i.e. light blue, pink, yellow, light green. Also buy two or three stamps of the number "2", each stamp being a different size of "2" (you could buy a big "2", medium "2" and small "2". Then with a a coordinating color of ink, stamp your cardstock with your different sized "2" stamps. Cut them out to size (5x7 is a good size and you can get 2 from an 8.5x11 sheet of cardstock). Then print out or write out your twins baby shower details onto white (or coordinating color) paper and fasten it to your stamped cardstock with tape, glue or scrapbooking embellishments.
If you don't have time to make your own, check out these free printable twins baby shower invitations. They are all ready for you to use! There are several different colors and verses to choose from:
_______________________________
Twins Baby Shower Decorations
You could have a general theme of "Twins" or you could choose a specific twin party theme:
Peas in a Pod Noah's Ark
Oreo Double Stuff
Double Mint Gum
Double Header (baseball/ sports theme )

Your guests are going to be seeing double, because it is two of everything at a Twins Baby Shower!
Start your decorations by stringing a clothesline up in the party room and hang two onesies, two pairs of baby shoes, two little hooded towels, two bibs, etc. Color coordinate the baby items if the twins are a boy and girl - hang a pink onesie & a blue onesie, a girl's bib and a boy's bib, a little girls dress and a little pair of overalls, etc.
Next, you'll want to get two sets of streamers (pink & blue for a girl & boy, or blue & white for 2 boys, or pink & white for 2 girls - or any other fun color combo) and string them together throughout the party room, mainly on the ceilings. Put several twists in the streamers as you string them up.
You could cut out big "2" numbers from colored or patterned cardstock and tape them up on the walls.
It is a lot of fun to decorate with a twins theme of something that implies 2, double, or twins. For example: you could choose Double Mint gum, Double stuff Oreos, Twix candy bars, etc. If you chose a Double Stuff theme, you could decorate in brown and white (and throw in pink or blue to make it "babyish"), and you could make large "Oreos" from dark brown paper and using a black marker & large stencil trace out "O R E O" on the brown circles. Buy brown and white balloons to place around the room. You could include a "double stuff" poem on your invitations, for example:
It has been almost 9 months
And Julie Smith has had enough!
So come celebrate her twins baby shower
for her two little Double Stuff!
_______________________________
Twins Baby Shower Games
Double Diaper Diaper Tag Team
Preparation: For this twins baby shower game you will need a cloth diaper, several safety pins, a doll (or teddy bear) and some nimble fingers!
How to play this twins baby shower game: Have the guests get into teams of 2 (Twins!). Each team is timed with a stop watch as they both attempt to quickly and neatly put the cloth diaper on the baby doll with the safety pins. The hard part is that each team member can only use one hand! You could tie one hand behind their backs, if that would help. The expectant mother judges who is the winner based on the quality of the diaper job and how fast it was done.
How Many Pairs?
All that laundry we have all done in our lives certainly pays off in this baby shower game!
Preparation: Before the shower, buy 10 - 12 pairs of baby socks (0 - 6 months). Buy different colors & patterns.
How to play this twins baby shower game: During the shower, separate all the socks and mix them up in one big pile in the middle of the room. Then, one at a time, have each guest pair up as many pairs of socks as they can in 15 seconds - or time each guest to see how long it takes them to pair up all of the socks. The one with the most matching pairs or the best time is the champion!
Baby Shower Concentration
Also known as Baby Shower Memory Game. Everyone really has a lot fun with this game and there are multiple prizes, which of course everyone enjoys! There is 2 of everything here! Match the pairs of words by remembering where everything is throughout the course of the game. Click here for detailed game instructions ...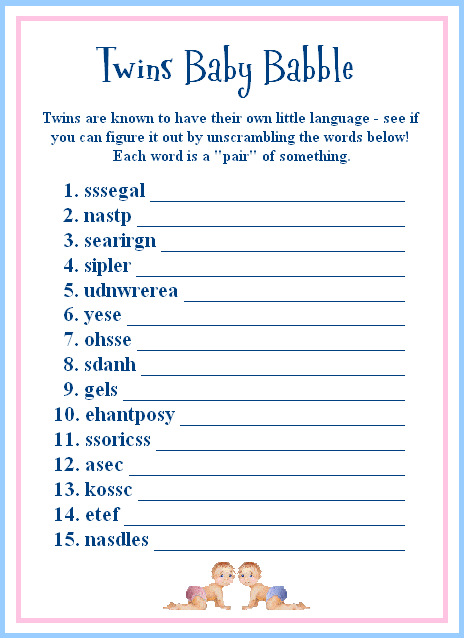 Baby Babble
- A Free Printable Twins Baby Shower Game!
Preparation: Make a list of 15 - 20 words of things that come in pairs (for a "Twins" related theme). Then scramble up the letters of each word. Make copies of the list for each guest. Click here for free printable twins baby shower babble game cards ...
How to play this Twins baby shower game: Give each guest a copy of the list and a pen or pencil. They must unscramble all of the words. Give them 5 - 6 minutes to unscramble the words, or play until someone unscrambles all of the words. The first one to unscramble all of the words or unscramble the most words in the allotted time is the winner!
Oreo Double Stuff Song
You could play this game if you are doing an Oreo theme. This is a fun game that brings out the creativity in your guests! Divide the guests into groups of 4 or 5 and give each team a copy of the OREO song lyrics: The song goes like this: Oh,oh, oh, ice cold milk and an Oreo Cookie, they forever go together , what a classic combination. When a dark , delicious cookie meets an icy cold sensation, like the one and only creamy, crunchy, chocolate, O-R-E-O
Then tell each team to create their own lyrics about twins, motherhood, babies, nursing etc. to sing to the tune of the original OREO song. The expectant mother is the judge and decides who has the best baby Oreo song! Little travel packs of Oreos would be an obvious & cute prize for the winners.
_______________________________
Twins Baby Shower Centerpieces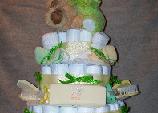 • A cute and trendy idea these days for a centerpiece is a Diaper Cake. They are loaded with baby items that a new mother will really need and they look fabulous! Check out this cute twins diaper cake submitted by one of our readers. For a Twins Diaper Cake, you could put a "2" candle on the top of the cake, or two stuffed animals. Garnish the cake with 2 bottles, 2 pacifiers, 2 towels, 2 pairs of bab socks, 2 bibs, etc. Click here for instructions of how to make your own diaper cake ...
• A flower bouquet would be a beautiful way to freshen up your Twins baby shower and bring a stunning centerpiece into your decor. For a twins flower centerpiece, make sure that your flower bouquet has two of the main flower. For example, if you had little carnations, babys breath and greenery, you could have 2 big roses or lilies to make it a "Twins" bouquet.
• Balloon Bouquet - This is a great baby shower centerpiece idea because you can match the colors of your party decorations for a twins baby shower. Buy two balloon bouquets, one for each twin! They can be smaller bouquets (less balloons) - that way you won't have to spend twice as much. If there are boy twins, buy 2 blue bouquets. For girl twins, buy 2 pink bouquets. And for a boy & girl twins, buy 1 pink & 1 blue. Or match your specific shower colors.
_______________________________
Twins Baby Shower Food
Double Berry BS Punch
8 c. cranberry juice, chilled
3 c. raspberry soda, chilled
10 oz. raspberries, (fresh or thawed)
4 c. raspberry sherbet
In a punch bowl, stir cranberry juice and raspberry soda together. Place a scoop of sherbet in each cup and pour drink into cups. Add a few raspberries as a final touch. Makes 24 servings.
Double Lime Punch
2 c. lime sherbet
2 6 oz. cans of frozen limeade concentrate, thawed
3 12 oz. cans ginger ale, chilled
4 c. water
In a punch bowl, stir in limeade concentrate, ginger ale and water. Then add the scoops of lime sherbet. Makes 20 servings.
Two Layer Dip
4 ripe avocados
1 onion, finely chopped
1 tomato, diced
2 T. lime (or lemon) juice
salsa
salt
garlic powder
ground pepper
3 cups shredded cheese
Peel the avocados and remove the pits. In a mixing bowl, hand mash the avocados, then mix in the onion, tomato and lime juice. Add salsa, salt, garlic powder and ground pepper to taste. Put guacamole into a serving dish. Then sprinkle with shredded cheese and briefly place in warm oven to melt the cheese. (Keep an eye on it so it doesn't burn!) Serve with tortilla chips.
Two Layer Jello Mold
1 lg. box cherry Jell-O
1 lg. box lime Jell-O
1 (8 oz.) pkg. cream cheese, softened
1 (8 oz.) container Cool Whip
For each box of Jell-O: In a sauce pan, boil water for Jell-O (the amount of water is indicated on Jell-O box). Add Jell-O, 1/2 package of cream cheese and boiling water into blender. Blend well and pour into bowl. Chill until Jell-O is set. Repeat for other flavor of Jell-O. Remove bowls from refrigerater and place half of cool whip into each bowl. Blend with a hand mixer until mixed well. In a greased Jell-O mold or 9x13" baking dish, pour in cherry Jell-O mixture and then the lime mixture to form 2 layers. Chill in refrigerator for 2 hours. Makes 15 servings.
_______________________________
Twins Baby Shower Favors
• A pair of earrings
• Travel boxes of Oreos for a "Double Stuff" theme
• Twix candy bars
• 2 tickets to a local baseball game for a "Double Header" theme (some teams have $2 ticket nights)
• 2 tickets to the movies (the dollar theater)
• Double Mint gum packs
• Matching bath gel and lotion packs
• A pair of cute socks
• 2 of any girl item like lip gloss, nail polish, goody bags, tealight candles, etc
* Attach a note to your favors saying, "Double Thanks for coming to Sara's Baby Shower!"
_______________________________
Twins Baby Shower Gifts
The best Twins baby shower gift is 2 of anything!
• A Twins Diaper Cake
• A gift certificate for 2 to the mother's favorite restaurant
• Famous Pairs:   Winnie the Pooh and Piglet sets of clothes, towels, bibs, blankets or toys
  Burt and Ernie baby items
• 2 of any of these items:
   Bottle
   Binkie
   Bib
   Booties
   Diaper pins
   Pacifier
   Rattle
   Teething ring/teether
   Diapers
   Receiving blanket
   Burp cloth
   Sippy cup
   Onesie
   Baby socks
   Sleeper
   Baby towel
   Wash cloth
   Baby lotion
   Baby powder
   Formula
   Stuffed animal

_______________________________
Do you have any fun Twins Baby Shower Ideas? SUBMIT them here to share with everyone!!
Good Luck on your Twins Baby Shower Party - I hope it's Double your Pleasure, Double your Fun!